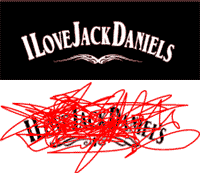 Dave Child is a web developer from Brighton, UK. He ran sites for Juno Records in London, and does online marketing. Along the way, he picked up the nickname Jack Daniels for the bottle he kept on his desk. So when he wanted to start a site to provide tech resources to other programmers, he registered the url "ilovejackdaniels.com."
Apparently, Mr. Child developed a considerable following. Soon, traffic estimates from Alexa showed that this programming site drew more traffic than the beverage manufacturer's official ste, JackDaniels.com. See Alexa estimates below.
Earlier this year, JD's legal team threatened Mr. Child with a lawsuit unless he turned the domain over to them and stopped using their name in the site's logo.
Of course, there were options. Jack Daniels could have licensed the use of the mark, perhaps in exchange for advertising, links, or a disclaimer on the site. Heck, they might have hired Mr. Child as an ambassador to pimp JD to the Wired set. But that wasn't in the cards. JD wanted the domain, and Mr. Child wasn't itching for a fight:
The idea of changing the name and domain of the site had crossed my mind before. Although I don't sell my services through this site, it still reflects on me professionally, and the old name, while highly memorable, didn't exactly conjure up the sort of image I was after.

Ultimately, while the thought had on several occasions crossed my mind to change, I had decided against it. I liked the old name – it was personal. It wasn't trying to be clever or stuff keywords where they don't belong. It was interesting and memorable, which are both rare qualities in domain names. I will especially miss giving my old email address over the phone.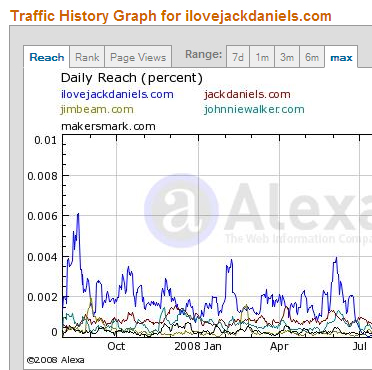 Since the brand's most pressing claim was site's logo, which was patterned after Jack Daniels, he immediately removed any likelihood of confusion by scribbling over his former praise for the brand (see above). Now. thanks to blog coverage, you've seen the logo, even if you never went to the site. As Dr. Phil might say, "So how's that brand-protection stuff doing so far?" In the short term, not so well for Jack Daniels, I'd guess.
One of the site's many readers started a new site, ihatejackdaniels.
And does Mr. Child still love Jack Daniels? Well…
I know it should taste the same – they've not changed the recipe after all. Yet for some reason, I find myself drawn to alternatives. After some hard work sampling several alternatives, I can so far highly recommend Bulleit and Woodford Reserve.
Note to self: Consider adding bourbon to our 2008 holiday gift list. I hear Bulleit and Woodford are quite good.