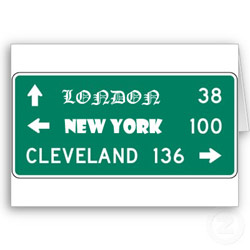 There's nothing like being on the road to put my head, literally, in a new place.  Of course, there's also a ton of alone time, and standing in lines.  But that can be good, really. Travel shakes up the whole creative process for me.  I'm already impatient to be there.
1. The Future of Digital Marketing in Cleveland (Shhh, it's secret, but we can still hang!)
Next week I'll be in Cleveland April 18 and 19. I'll be doing a presentation and strategy session for a well-known firm, which is bringing me in to help set the stage for building a position in their industry as a digital marketing leader. If you're the area, I'm hoping to head out the evening of April 18, and it would be fantastic to meet up.
2. Mobile Marketing NYC: The 2011 Peer Summit
If you're an enterprise marketer, online publisher or e-tailer, then this invitation-only meetup on June 2 is the place to spend time and exchange insights with your peers. The thing I love about these events is that they schedule lots of unstructured contact time, because everyone in the room is an expert. And while there are sessions and topics, letting all that expertise develop into its own conversations is the event's real value proposition. If you're going to attend this, let's meet up, and if you're considering attending, allow me to encourage your behavior.  NYC + Digital Marketing + June; does it get better than this?
3. The Future of Digital Marketing in London
Well, okay, London in June is pretty awesome! Especially as the entire conference is bang-on in my sweet spot…it's even called The Future of Digital Marketing….and yes, yours truly is keynoting! (Come with me; we'll have fun, and subject our hosts to more funny accents. You can talk Texan, right?)
Closer to Home
I'm also attending a ton of events like Boston Hackday, tonight's Semantic Web Working Group at MIT, and tomorrow's Globe-sponsored Future of Journalism & Social Media.  And I'm toiling like a crazed weasel to get involved with more Boston events; by the time these are ready, I'll be bringing back ideas and inspiration from the far reaches of Cleveland and beyond.
Meanwhile, if you'd like to talk about booking me to speak or advise your organization, get in touch here.  This is a great time to get traction on your digital growth plan.