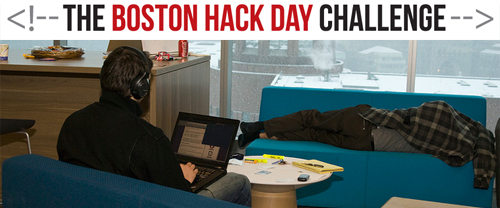 This weekend I joined over 200 developers and designers who spent the weekend competing to build the best site or mobile app to make life better in Boston.
Boston.com pulled the event together, which took place at the  start-up accelerator, MassChallenge. We have 20 years experience of the Boston Computer Society, MIMC, MITX and MTC connecting expertise. People pitched ideas, teams were formed, and in just 48 hours prototypes of the next big thing were ready for judging.
I thought you'd like a quick survey of the ideas the developers in our midst are putting their sweat equity into.
See what people are reading in the Boston Globe right now. (Won best news focus.)
Cabnabber: Find available cabs, pick the one you want, contact them and watch them arrive. (beta in Android.)
Twitter encryption to help people around the world talk free of censorship and local tyrants.
RedFlare: An automated notification service for emergencies. (Plot your course; if you don't check in, notifications start flying.)
PlaySomePickUp: Facebook-based app to find or form pick-up games of tennis, Ultimate, soccer and more.
DoingBoston: Grab social media recommendations into a database to help people enjoy the city.
EventFindYou: every event from Boston.com plotted in relation to you, and filterable to your interests.
Playbill Express: A mobile app to promote and fund the theater scene.
IceBreaker: Group location-based gaming that lets people in a place get to know each other.
Can I Park Here Legally: Some streets have so many parking regs that figuring out if your space is legal can be like parsing rabbinical law. Using GPS and mashed-up data, and notices of snow emergencies, your mobile device can now clue you in on parking. (Won Most Boston Centric.)
Accessible Places: helps people with disabilities identify where they can and can't gain easy access. (Most Civic)
A set of common geo-mapping tools  for Boston: (to map bike racks, potholes, or whatever you like.)
Drunk and Stumble: Plan your pub crawl, measure progress, get help grabbing a cab home. (Most Mobile & People's Choice)
Know Essentials: information to help poor people get resources. (Grand Prize)
Boston Green: information to make parks better and more accessible. (Grand Prize)
A map and real-time data set of how crowded people say places are.
A website to match up groups of high-school students to professionals (on LinkedIn or Junior Achievement) who would meet them as a group at school.
Memorable quotes:
"We haven't left and we haven't slept since we got here."

"Last night at 10:30 we got a new idea so we just started coding."

"This project was powered by beer."