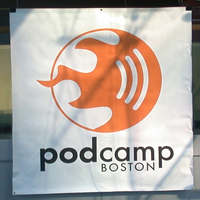 Its that time, when a few hundred online types gather for Boston's social media un-conference, Podcamp.  Yes, there are topics — but these are looser than at regular conferences, and they're 100% driven by the audience.  Its fun, personal, cheap, and it really is the place to click-in with a core group of Massachusetts digital doers.
The New Schedule is Here!
 Here are a few sessions I"m looking forward to at this year's #PCB6. Hope to see you there.
And, if you're new to Boston's digital scene, this is a key place to come and plug in.  Here's just a taste of the digital awesome ahead.


Saturday, September 24th
     (We might get to hear from founders, Brogan & Penn, before the games begins.)
9am —
Join me for The 7 Deadly Sins of Digital Business Innovation
While nobody can tell you exactly how to build your next innovative digital business, the deterrents to digital success are well known. Taking lessons from my work helping firms remake themselves through digital technology, I'll share some common patterns that create obstacles, and ways firms have successfully taken them on.
10am —
Chris Brogan (in photo above), Why Google+? Then What?
Are social media enthusiasts finding Google+ to be a useful medium. Or is this a fantastically designed bridge to nowhere. Pocamp founder and man-about-the speaking circuit, Chris Brogan has a point of view at the ready.
David Cutler (also in photo above), Selling Out
Let's face it, nothing happens until someone sells something. And that's what Mr. Cutler has been doing since before we were both geezers. Nobody is more interactive than Culter. And I'm hoping that he'll play some harmonica between sessions. Please, join me in hounding him about this.
Tom Catalini – Improve your blog's image with images!
I really want to see this. Fortunately, Podcamp is governed by the rule of two feet, which allows wandering between sessions. This way I can satisfy my desire to be three places and once, and to continue to cultivate mid-life ADD.
11am —
Tamsen McMahon, Breaking the Bell Curve: Standing out in a sea of same
Tamsen, a self-described intellectual magpie, is a ton of  fun and great ideas. She leads digital strategy for a fine agency in our fair city.
2:15 —
Doug Haslam, Cutlure Clash of Personal and Professional Brands, & Why It's Necessary
Doug was early to the intersection of digital and public relations. And hearing what's on his mind is a great view on the promises and challenges of digital PR.
3:15 —
Christopher Penn – Designing Social Media Influence
Chris is a Podcamp founder, and extraordinarily nice guy who will have a honed presentation.
Ja-Nae Duane has been on a Revolutionary Roadtrip spreading social media savvy, much as the Scooby gang once toured our nation uncovering ghostly hoaxes in abandoned amusement parks. She is head of social marketing for a local agency, an opera singer, and a fine ghost investigator in her own right.
Paul Lyzun, Interview Techniques – no not for a new job, silly. Paul teaches video skills, and his presentations are a great way to learn hands on skills. Fortunately he's presenting twice, but if you need to do on camera interviews, get in here.
Sunday, September 25th
10:00 —
Sara Streeter, Fluency Through Listening
Sara ran New-B camp in Providence, and is smart, fun, and relentless up to good.
Lane Sutton, Locking Yourself Up… Online from the Unknown
Though Lane is quite young (somewhere below 18 still I believe) he's earned a voice as a philosopher of why being online is good for us.
11:00 —
Georgiana Cohen, Get Smart About Content
She just nailed with a question in my Web3.0 session last year, and since then, I've seen Georgiana all over the place sharing ideas on content strategy. She manages web communications for a local university, and I hear she'll be keynoting at Gilbane Boston this Fall. Don't miss, she's awesome!
Chel Wolverton, Social Inbox Zero
If anyone knows about managing chaos its Chel, who has been lead organizer of the last two Podcamps. She's also out sharing her views about the online world, and anyone who can help get people to Zero in any inbox has "the power".
2:15 —
Come join me for Applying Digital Strategy Across Your Business
You will leave this workshop with the tools to assemble single page maps to renovate existing businesses approaches, or show how your new approach will obsolete competitors.
3:15 —
Mari Anne Snow – Teaching social media to the next generation of social media professionals.
Besides being the best professor on social media that I know, she's also an accomplished business advisor. I've attended several of her courses, and highly recommend hearing how she structures a fantastic learning experience that is far from ordinary.
You can see the full Podcamp Boston schedule here, and $30 registration tickets (good for the whole weekend) are available, this way.