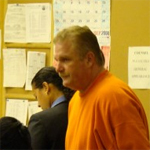 Judge Teri Jackson sentenced Terry Childs to 4 years in prison last week. Childs took sole control of San Francisco's city network for nearly two weeks claiming he was the only person certified for such access.  He eventually provided administrative access to the mayor who negotiated with Childs after his arrest.
Childs will next receive a hearing on financial penalties on August 13, which could require him to cover the city's US $900,000 bill, spent on trying to regain control of its network.
The four year sentence for hacking is on the high end on the available five year sentencing range.
More details in CSO's Security and Risk Blog.
Related Posts: