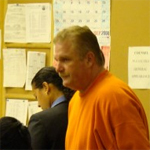 Back in July of 2008 we covered the story of Terry Childs, a network administrator for the City of San Francisco, who was imprisoned after taking sole control of the city's network.  Though services were not interrupted, he locked out the rest of the city's IT staff from the city's network.
After the Mayor of San Francisco  secretly met with him in prison, Mr. Childs provided the new password, which allowed other city employees access after nearly two weeks of being closed out.
Information Week has details of the conviction and sentencing, which could range from release to a five-year prison sentence for computer crime.