There are a lot of situations where allegations of trademark infringement are counter productive. As you've read here, overly aggressive enforcement can lead to unexpected, damaging, consequences for brands.
But aren't brands obligated to protect their marks with zeal?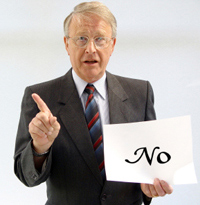 J. Scott Evans, Senior Legal Director for Global Brand and Trademark at Yahoo! Inc, and Paul D. McGrady, Jr, Shareholder at Greenberg Traurig LLP have something to say about that, and you can listen in for free. What if the facts don't support their case, or if enforcement would be a public relations nightmare? The two suggest that talking clients in from the ledge of ill-considered litigation is part of brand protection too.
Fair disclosure, I'm aware of this program because I work for its sponsor. That makes me as biased as one can be about a free program which, in my opinion, will be both useful and as fun as trademark law gets.  If you provide IP counsel you may want to register now, or tell someone who should.