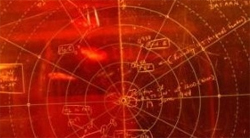 I'm active in a pretty wide range of discussions about the future of digital marketing.  It's astonishing how often these conversations start, and then stay on technology. This I think, is a disastrous error.
Let's consider a nice tangible example of a group that gets things done: the United States Marines.
It's not gear that makes the Marines a great fighting force – though I have no doubt they have awesome firepower. But one well-placed warrior could probably do more damage with a screwdriver then I could with a whole crate of explosives.  And the judgment of knowing when to wait for the shot is as much a skill as aim.
Build People before Systems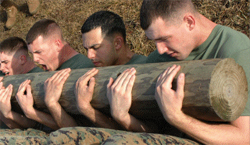 The same is true in marketing. People and strategy are prerequisites for even picking tools.  Two years ago, my team set the goal to be the best digital marketer in the legal industry at both paid and organic search.  This drove hiring, and  brought a stream of people with this expertise in to the firm. They identified creative tactics to help win at search, and then we built out systems to support that.
The people came first. This makes sense, because you need them to specify exactly what needs to happen, and to help build out new systems.  Consider our content team, which has migrated over 5,000 web pages to our new publishing system over the last two months.  They figured out how to get this done, and along the way have become experts on our publishing system.
According to ZDNet, 70 percent of IT projects fail.  Most are doomed from the start because they fail to really nail the business goals of the project.   The rush for results leads to systems that can't deliver what the business needs.   Our recent web publishing project took six months to plan. That helped us make sure that what we built worked, was on time, and even hit budget numbers.
Getting the "People Layer" Right Drives Technical Success
Rushed shots that miss targets can be worst than shots not taken. Why? Missed shots burn through opportunity and resources. And failure degrades culture. There's a reason the Marines are proud.  Their shots hit the target with alarming regularity.
The next-most frequent reason a project fails is a lack of communication and team skills.  See the pattern?  Technical success is determined far more by people than technology.  When a technology is fairly mature, getting the "people layer" right is the key success factor.
The difference between heaven and hell is personnel.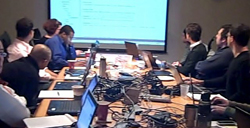 If your goal is to be a world class organization, then a huge part of that victory is building people and culture inside a strategy.  As important as systems are, they're just instruments for skill and strategy. Its your people who will pick up projects and carry them across the finish line.  And its your people who will use the systems you build. Your success is in their heads and hands.