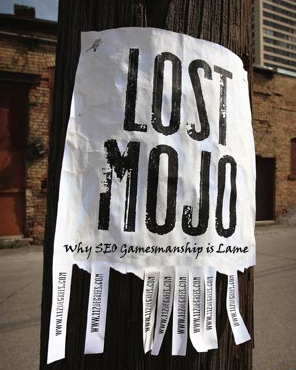 Dim Days for the SEO Biz?
A few weeks ago I got a note from a fellow digital marketer who had just read Joe Devine's article in Mashable on how Social will "transform" SEO.  I love the business buzz phrase "transform" because it almost always really means "to disrupt and wreak carnage" on some incumbent business model.
Just like DSL and FioS disrupted getting internet access through POTS (plain old telephone service) Joe has identified inclusion of social results as a serious threat to business as usual among SEO agencies.  As search engines start to use the social grid starts to drive results, the utility of SEO gamesmanship rapidly declines. Buying links, creating crappy content for SEO arbitrage, and exact match domains will matter a whole lot less.
Time to rebrand?
Joe's advice to SEO agencies is that it is time to adapt to this transformation by rebranding as "digital media agencies", which he calls, "DMAs".
DMAs handle the many online representation needs of their clients. While top search engine placement remains the major goal…A DMA also seeks to manage a client's online reputation, create and maintain their social presence, and handle the many other aspects of a client's online brand.
But for this "rebranding" stuff to work, it has to come with a new reality. Its time for SEO to sober-up from the link juice and to rejoin the marketing department.
SEO Agencies May Want to Manage Social Media and Your Brand….But Should They?
Joe and I agree that social media is likely to increasingly drive search results in the future. But there's absolutely nothing in that to suggest that the SEO folks who position firms for search today, are in any way equipped to build real engaging social media campaigns, let along manage online brands.
1.       Can anyone name an SEO firm who has built a consumer community over 50,000 users?
2.       Have any SEO firm's made YouTube videos with over a million views?
3.       How well is your search agency connecting in Twitter on general marketing (not SEO) topics?
The core activity of SEO work is deconstructing mostly Google's algorithm then reverse engineering websites to maximizing ranking for specific keywords. Its goal is putting clients on the top of results pages.
What relevant capability does SEO bring to the table that would help influence an audience, not an algorithm? Social media hinges on getting an audience to invest their time, reputation and interest in brands. In this respect, SEO experts are no more qualified to build social campaigns than your legal team is to run the marketing department.
Yet, Marketers Need SEO Smarts, Social Marketing Savvy, and Brand Brilliance Integrated
Larger scale digital marketers have recognized the need for integrated services for a very long time. They've fed their need for SEO expertise by buying firms and bringing them in house. The "original SEO agency" iPropsect has been part of Isobar for six years now, and local SEO titan, Catalyst, is part of WPP.
Just like these larger agencies did, isn't it time to stop treating SEO and Social Media as walled-off specialties, and instead popularize these skills across your whole team? I did this with web analytics training, now instead of a few specialists I have 40 users who are more focused on our audience because they're in the analytics often enough to spot tactical changes and drive trends.
Time to Sunset the SEO Agnecy?
As digital marketing evolves the tide is turning against SEO and the whole idea of centralized search. I don't search for news, increasingly it finds me through social channels. The audience knows more about relevance than its algorithm driven intermediary.
Social media will continue to supplant search in how people discover and relate to firms. And as the forces of what I've called Web3.0 creates more integrated and immersive experiences, search will be provided by platforms and increasingly driven by behavior.
We already see this kind of search on Amazon. Many of the descriptive fields are fixed by the book. There's some room for games with reviews, but that's kept down by requiring registration and community voting on the usefulness of reviews.
I think Ben Elowitz gets it right when he concludes that as the allure of gaming search engines fades into the past the tricks of SEO will be deader than a Stalin.  SEO agencies should read between the lines, when Joe Devine says "evolution into full-fledged Digital Media Agencies is imperative" what you should hear is "run, do not walk to a new business model".
So, enough with the link juice. Findability is still important. And all that energy which has been directed to gaming Google can help expand the reach of firms and their relevance to visitors. As transformations go, that sounds like a good one. Let the SEO transformation begin.