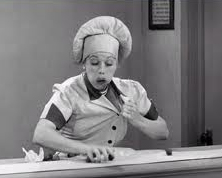 Have you noticed firms that do content marketing with such an SEO focus that it gets in the way of their user experience? Too often firms follow SEO tactics which are really an arbitrage of marginally useful actions that often have no value other than to influence Google.
Here are some good SEO practices that I've seen turned in to tulip manias:
Crappy content marketing
(page count and keyword loading)
Insincere links (popularity)
Exact-matching domain names (hyper relevance)
These efforts are usually based on "proportionate thinking," which builds an SEO factory to bulk-up metrics to "please" (or more accurately to trick) Google. The problem with this thinking is that Google doesn't want to be tricked. And just like the stock market, there are corrections when bubbles develop.
Crappy Content Marketing
If you want to know exactly why content always trumps SEO, visit DemandMedia, Suite101, Associated Content, or one of the other content mills and do a query on a random topic. I did this with typewriters – because a friend of mine collects them – and then clicked on the first article each site suggested.
Suite101: There are many simple machines that go into the construction and contribute to the proper functioning of typewriters. Until the rise of computers, typewriters were the most popular machines used for word processing. For most types of typewriters to function properly, each and every type of simple machine is required.
AssociatedContent: There are many people that collect something they really like such as first edition books, antique desks, or vintage sewing machines. There are a few things however, that not only can get expensive but if you don't know what to look for can burst your bubble, like collecting vintage typewriters. Not yet an expert and still looking for more tips on collecting vintage typewriters, I have made a few purchases, some good, some great, and some that I should have researched a little better. The more the experts share with us rookies, the better off we as collectors will be and fortunately with a little research and by following tips on collecting vintage typewriters, the pitfalls can be averted.
DemandMedia offered me an article called "How To Use A Typewriter" which offered 12 easy to follow suggestions like: 1) If it's an electric typewriter, turn it on.
Would you really have any faith or interest in a site that presented you with this kind of crap? Would you ever go back to this site? No and no.
People and companies pay for this stuff! They put it on their sites because … content helps you get traffic, right? And these content mills are very concerned with SEO. They have SEO guidelines for writers in order to provide companies with content that will improve their search engine results. If brands are built based on user experiences, then pulp content turns brand experiences in to static.
Attention K-Mart shoppers: Content is not king. GOOD CONTENT is king.
Content = Currency. Do you want your currency to be the Haitian gourde (currently trading at 0.0248004 to the dollar) or the Euro (1.39509)?
Online, you are what you share.
It comes down to the quality of your site's insight and its expression in content. So, "If it's an electric typewriter, turn it on"….and write something an audience cares about.