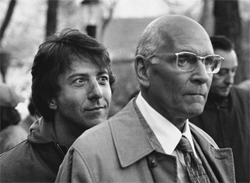 Back in the 1970's Dustin Hoffman showed up to film his famous "Is it Safe?" scene in Marathon Man with Lawrence Olivier. To prepare for the scene, Hoffman had deprived himself of sleep for several days to help him seem more tortured. Famously, Sir. Lawrence suggested that Hoffman should "try acting, its easier." (He was Olivier, so he could get away with things like that.)
The Best SEO Helps People
Over the years I've run search for a number of firms, and even found myself briefly using it to aid a hostage contact team to influence a colleague's captors. In that case we relied on every trick and technique available, but obviously our actions were constantly squared to a bigger goal. Most people's goals hopefully aren't so literally life-and-death, they're more likely to be focused on acquiring a certain type of audience which is motivated to do business with the firm. But too often SEO focuses its enthusiasm on a metric or rank, and it gets cut off from delivering the right visitors.
There's lots of "good" SEO. You may remember that I recently wrote about a domain strategy I used to triple organic visits to a site. SEO insights set-up a small change which delivered disproportionate and persistant results. I like smart SEO, and by that I mean search engine optimization which gets you the right audience when they're ready to buy.
The Worst SEO Lives in a Hype Vacuum
Old school marketing was all about "NEW AND IMPROVED!!!," "10% BETTER!" and other such usually pointless claims that were frequently made to draw attention to a product that was mediocre at best. That's what trying to rig SEO is: Making noise because you don't have any substance.
We get awareness, engagement, and reputations based on the quality of our content. Unless you are only trying to get a lot of very brief visits then SEO by itself is useless.
I laugh when SEO scammers try to counterfeit the appearance of having good content by renting links, or creating spam inlinks through social networks, or astroturfing comments. It doesn't work. People come by, see the crap and they're gone. And when Google recognizes this, their investment of effort is washed away.
SEO riggers are doing you a favor. The more garbage they put out there, the more eager people will be to find the genuine, informative article. Making SEO metrics ends in themselves is as ridiculous a position as those who over focus social media metrics. One can rack-up huge counts of "Friends" or "Followers" that mean nothing to their business.
But too often, firms buy in on SEO fads, which are nothing more than an arbitrage of taking lots of marginally useful actions which have no value other than to influence Google.
While we can see that folly in social media, too often firms miss this in SEO. They start to manufacture metrics they know have little meaning, but may make that make their content appear to be more popular relevant or prolific just for search.
If this sounds familiar, it It may be time to tell your SEO ninja, guru or rockstar (or their disciple in management) to "Try marketing, its useful to the business".