I'm not sure who's an expert about social media. But I've figured out a few tips to steer clear of stupidity.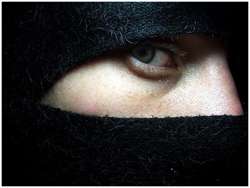 1. Shun Gurus, Ninjas, Rockstars
They should be translated as follows:
Guru = "Windbag"
Ninja = "Novice"
Rockstar = "Marginally competent"
How did ninja – an elite assassin and/or practitioner of ninjitsu – come to mean "someone who is good at social media"? In this context, shouldn't a ninja be someone who is good at destroying reputations?
A friend of mine got a call from her daughter's kindergarten, claiming the girl had been lying. Seems when they ask the kids in the class what their dads do for a living, the daughter says, "He's a ninja."
Long pause from mom on the phone. Then mom says, "Well, what do you call someone who teaches ninjitsu?" (And unless that's what you do, best to stop it now before you meet a real ninja.)
2. List-Based Headlines Announce Weak Content
Y'know, like "iPads, Facebook, Pro Wrestling and You." Or "Three Tips Anyone Can Use to Muck up a Headline." It's a sure indicator that the author doesn't have anything new to add to the topic or even a coherent idea.  I stopped reading these (and writing them) cold turkey, and life has only gotten better.
List headlines may good for SEO. But since people make all purchasing calls I'm part of, it's a no-brainer to default to writing for the humans who pay the bills, rather than the search algorithm that's trying to  ignore over-optimized drivel.
3. Follow Your Own Path
Beware of any blog written according to the Problogger/Copyblogger formula for success. Jason Cohen has a great post at his blog A Smart Bear explaining what this formula is and why he'd rather get a root canal than follow it. This formula is perfect for people who have nothing to say. The only reasons for writing like this are because you're lazy or you think your readers lack a clue.
4. Don't Study "Authenticity"
If you want to be authentic then just say what you have to say and stop wondering if you sound authentic. If you're worried about sounding authentic – whatever that means – then you have a bigger problem: Figuring out who the hell you are. An authentic person just is. Maybe your authentic voice is that of a stuffed shirt. That's OK, as long as it's a stuffed shirt with real information. If you don't have the information then, again, SHUT UP.
5. Avoid the List's End
Be extra-skeptical of any post that has five, seven, 10, or 15 items. Real life doesn't work that way, even if marketing wants it to. Generally, a list like that has been padded out. And that last item will be real short and self-evident. Like this one. ;>