Seth Godin may not want comments on his blog, but Google does.  Google's Sidewiki service allows anyone with their tool installed to post and view comments in a frame right beside web content. I'll provide a few examples of how this service is taking root, and some options for your Sidewiki strategy, including the choice to actively jam its operation.
Is Somebody Scribbling on Your Website?
That's the upshot of Sidewiki. If you have a website, you may have comments that you can't see unless you turn on the Sidewiki feature on the Google toolbar or the Chrome browser. The web and blogs aren't necessarily social or interactive, but that's exactly what Sidewiki delivers (whether you're ready or not).
Can't you just hear the sound of brand managers downloading Chrome and the Google Toolbar in droves? Already SEO consultants are claiming to have ways to get better results for your site through Sidewiki, and better placement for your comments.
Traditionally, Google has been at the center of the web as a search agent that directs visitors to helpful content on the edge. Suddenly, Google also has central content displaying out on the edge next to website content. This competes with commenting on sites, and it creates a bifurcated discussion as only those with Google software can see Sidewiki comments.
So, here's what it looks like for some brands that have to take their play in social media very seriously.
The Mormon Church May Have to Discuss Homophobia on Its Homepage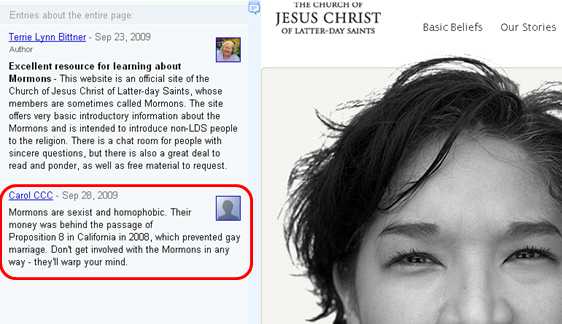 Having run SEO for a major Christian denomination, I can assure you the LDS Church's competition isn't from the Baptists or Hindus. Rather, it's from having a page discussing a law suit over pedophile scoutmasters come up in the top related search results. This is a beautiful site, which, in my opinion, is intentionally constructed not to directly engage on hot-button issues right out of the gate. Sidewiki changes that.

Ready or Not, Seth Godin Has Comments Now …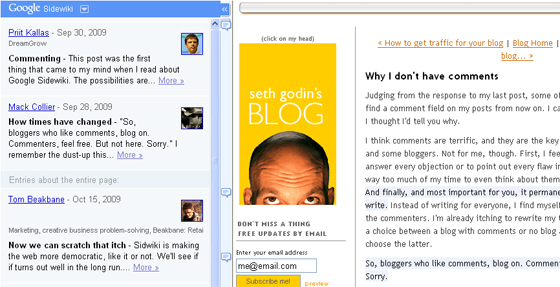 Yep, Seth Godin has a famous explanation for why he doesn't have comments on his blog. Take a look: he has comments now. For good or evil, Google's made the web more social for those who'd prefer it that way.
Is Sidewiki Good or Evil?
Commenting can do a lot of good. Real experts can set facts straight, and feedback will attach itself to bad companies so others can benefit from that feedback.  Further, comments are all attributed to specific accounts, so this is less anonymous than many schemes.
However, it allows Google, the arbiter of search, to also decide which posts should rise to the top of discussions. Suddenly it's critical both in traffic acquisition and now also in onsite engagement. Further, the discussion is just a string of sequential one-off statements, sort of like those fake presidential debates. It would be more useful to allow site owners to respond directly to comments.
What Sidewiki Strategy Should Brandholders Adopt?
Claim Your Site
Google Webmaster Tools allow webmasters to claim their sites and make the first post displayed on any page.
Decide if you'll participate, ignore, or actively jam Sidewiki.

Block Sidewiki users until they deactivate the program
The Search Engine Roundtable provides code to keep Sidewiki users off your site. Sending traffic away is obviously a high cost.
Present unique versions of your site to each user, so comments are never seen. This novel approach is elaborated on a direct response page that sells you a software solution to render Sidewiki useless for the time being.
Letting Sidewiki Users Know What to Expect
AstraZeneca's Webmaster has apparently positioned the firm to resist Sidewiki, and to absolve the company of managing content placed next to the its page by those they don't control. The company states Sidewiki isn't a good way to interact with the firm, and then provides an array of official channels visitors can use to contact them.
Google SideWiki comments posted on AstraZeneca.com are not monitored by AstraZeneca and users should not expect a response. You can follow AstraZeneca on Twitter or use the contact us form on this website.

AstraZeneca.com provides information about the AstraZeneca International business. If you are in the US you should visit AstraZeneca US. We also have national business sites which can be found under our list of AstraZeneca websites.
A (possible) Example of Jamming Sidewiki
It appears that AstraZeneca jams Sidewiki. If I visit the site with my browser's Sidewiki off, the page and the disclaimer below both load.  If Sidewiki is on, the corporate page "errors" and I can still see the Sidewiki disclaimer. Please note I claim no insider information on this site's operations, and have simply observed site performance through the few browser combinations I use in the course of my work.
One thing is for certain: The FTC and FDA will take a long time developing guidelines for social media, and every day more comments and services such as Sidewiki will take form. Brandholders must make decisions now on how to respond to the phenomena of visitors seeing comments they can't control right next to their websites.
Want to talk about this?
I keep my comments turned on, and would prefer to talk with you here rather than to read your post much later when I check my left columns with Sidewiki. Though if you use Sidewiki I'll eventually see it there, and am always glad to hear from UsefulArts readers. <smiles>