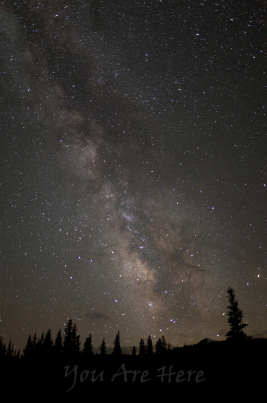 When we get away from the vanity of social media and its self-worshiping communities – we find what we have missed. There are experiences drowned out by the chatter, just as stars are drowned out by the green light spilled by streetlamps. Those experiences – away from the online world, perhaps that's what you should really be dwelling on, recording, and sharing. All the noise in the echo chamber of social media makes it harder to know that – but it is what we most need to hear.
My friend Constantine von Hoffman was out walking with his wife and son, when his wife stopped, took a picture of a tree and then announced she had uploaded it to Facebook. His son – his teen-aged son, said, "Remember when we just looked at leaves?" Has your archiving and curating gotten in the way of communing?
While traveling to Death Valley it occurred to me that the origin of the great religions are disproportionately in deserts. Moses, Jesus and Mohammed all began their preaching after long stays surrounded by nothing except endless sand and endless sky. In the desert it is starkly clear if one is alone, or with another – and sometime that other isn't in the mere physical realm. The environment forces a fundamental question: Am I isolated on the world or part of a larger interaction?
This year there's been a broad discussion on whether social media makes us stupid, or ADHD. I pay no attention to it. Hasn't this, or something similar, has been said of every emerging media? Some of the ancient Greeks complained that the written word would destroy people's ability to remember things. TV was a "vast commercial wasteland." Actually each new media changes us, how we think and how we see. I'd argue that social media can make us creators and greater agents in the world. Living in the city I took to carrying a camera and nailing one fantastic shot a day. It changed how I saw my urban world, perhaps social media does too.
This much I can say for certain about social media: It certainly makes it hard to be alone for an extended time. One morning at 3 AM I posted, "For the record this is when I write UsefulArts." Moments later the response came from my friend Louis, "For the record this is when I read it"
As a parent I struggle with when to share this connection to the digital world, and when to buffer it so my kids can grow in other ways. And I wonder how my behavior has shaped them. They've rarely, if ever, been ignored in favor of a signal from the hive. However, as I write this, I know they've waited while I signaled and interacted with friends here.
The wired, global city has banished the night and abolished the dusk. We are free of so much uncertainty and isolation. Mobile media dispels silence. You can find out things almost immediately if you want to and you never have to be alone if you don't. But have we also banished the poetry of revelation? How do you go on a quest for something when it seems everything can be found?
Through mobile technology social media is now the omni present other, a perpetual connection to machinations of the digital hive. But as we look at it, our eyes grow comfortable with the view, and the heavens are obscured by pixels. Didn't our eyes look up in to the sky or across the vast ocean and find more than just data?
To grasp again the moral sense of our being, we need to step away from the crowd and recover the gift of the night. Solitude. When we stop speaking we begin to hear; in the darkness we can be immersed by the life beyond the digital media monad.
This season, solitude – something freely available to everyone – seems rarer than all our hand-held technical marvels made of the rarest, most exotic materials on earth. A contrarian voice inside me, maybe a gift from my Cherokee ancestors, says it is best to live in a world of connected dusk, balanced between the individuated light of technology and artifice (techne), and the healing poetry of darkness and mysteries (poiesis).
This solstice, my friend, walk away from the light, and remember the world beyond it.
All the best,
Dave Wieneke