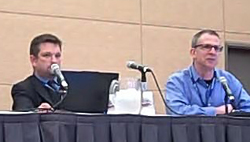 J. Scott Evans is hands down the person to turn to on emerging domain and online IP law issues. He's moderating a panel discussion with David Taylor of Hogan Lovells International, and Scot Minden of  Symantec.
Is a gTLD expensive compared to dot.com?
Taylor offered that generic terms as regular doamins have recently sold for high prices:
Flowers.com: $1.5 million
Vodka.com: $3 million
Diamond.com: $5.5million
That's a lot, considering the underlying registration costs $10 per year.
gTLDs for domains such as ".coke" require a $185,000 registration fee, and likely a .5M outlay for hosting. That's still a long way from being cheap, and it potentially is a material burden on even large brand holders.
Taylor also commented on China's shift in domain law which prohibits individual domain ownership, and its strict verification of companies registering for .cn domains. This has resulted in a sharp decrease of registered .cn domains from 13 million names to under 9 million names.  .CN now has fewer domains that Germany.
Regulation across the EU is uneven, and is playing out through its 27 jurisdictions.
J. Scott Evans highlighted case law.
Themes  included the importance getting your registration details cleaned-up. Make sure your contact information is correct, and that there's a clean chain of title for the domain.  In Germany, several courts have held administrative contacts on domains to be liable for the domains infringement. Take away, get your records cleaned up.
Scott Minden sees Symantec's participantion in social media as increasing. They've hired several social media staff, and gone about reserving their marks and networks, while removing accounts registered by impostors. This would be similar to LaRussa v. Twitter (June 2009) which was won on Right of Publicity and Oneok v. Twitter (Sept. 2009). A customer registered the name and posted information about the company.
Like many others, he's been successful in getting Twitter accounts taken down but not transferred. He's used the networks policies as his point of concern, and found good responsiveness by the networks.  The group agreed having a reputation as a good actor, who is polite and judicious, will result in favorable treatment.
Advice for Social Media Use
Register your trademarks as usernames.
Moniotor venues for abuse
Send abuse compaliants when appropriate
Establish guidelines about

Who is authorized to post on behalf of the brand.
How must the identify themselves?
What should not be disclosed, or undertaken.
(ie. endorsements, reviews, astroturfing.)
Set Domain Strategy for the  gTLD Shake-up in 2011
The burden of registering marks defensively on many different new gTLDS has resulted in the proposal of a trademark clearning house.
There have been 21 requests to create domains in non-roman characters. There are billions of people who don't use roman characeters, so this change will happen.  That means brands need to set strategy at a high level. Will your firm go to the right of the dot for .5M?  Dot.com may not always be the only gold standard.  And what about defensive buys across country domains?
Emerging Issue:
Facebook Communty Pages: When people enter their interests, Facebook creates community pages sort of like Wikipedia about subjects, some of which are brands. This may be a new frontier for brand protection.