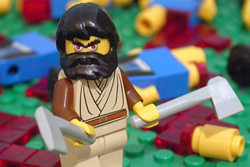 While domain squatting is on the increase, so is enforcement.  Brands are using research to determine which variants of their domains merit defensive registration, and since all variants can be predicted, they are invoking litigation and arbitration to take control of infringing marks.
Lego already owns 450 domain names, and they've registered their mark in 180 countries. That's a strong defensive position, but particularly with expanding gTLD registration, there is an endless array of domains which could infringe their name.
Lego swiftly prevailed in its claim that the domains Justlegos.com, legosonly.com, and onlylegos.com were registered in bad faith, by a registrant with no business interest in Lego products.  The WIPO arbitration decision essentially found that David Palmer had registered the domains to generate click-through advertising revenue.
Defensive registration is a useful tactic that can prevent some obvious infringement. But it still needs to be accompanied by vigorous monitoring and prosecution. As Lego demonstrates, it is simply not possible or efficient to guess every possible point of infringement. At that point, monitoring and enforcement become cost effective elements of brand protection.