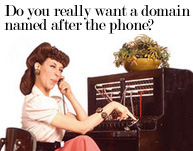 With the approach of the the December 3rd sunrise period for owners of trademarks to register .tel domains, brand owners have a decision to make. The .tel domain is innovative, but is a domain named after the phone really going to be a hot new innovation?
.Tel: A Domain with no Websites, Just Contact Data
Most domains exist to route traffic to specific types of websites.  But not .tel. Instead of using domain name servers to store IP addresses to route traffic to websites, .tel uses the servers to store contact information such as phone numbers, links to official web pages, and even social networking links. These may be viewed through web browsers and smart phones, or consumed as data by other applications, such as Outlook.
Business Week describes how Telnic, the start-up that manages the domain, will revolutionize dialing. The Telnic site has a brief demo on how individuals would use this service. (As a designer, I'd encourage you to go see this just to see this, as it's an example of what a lot of euro-marketing I see look like; which is to say, five years behind best practices.)
Anyway, having a directory of data makes sense, and doing it through DNS is a cool idea.
So What's Wrong With .Tel?
The problem is that the notoriously slow-moving ICANN took eight years to approve this idea. It made a ton of sense back before social networking sites such as Facebook made hosting a business card website simple and easy. Web services such as Sweetcron are making it possible for applications to leverage data across these free applications.
Many brand holders will probably scoop up their names in the .tel sunrise period as defensive plays. However, for these to ever be useful, there would need to be a network effect of millions of people paying to add their contact information which, given the plethora of free social networking sites, doesn't seem likely.
Further, ICANN's approval came after their announcement that pretty soon anyone will be able to declare and manage any domain if they pay and get approval from ICANN. That deprives .tel from the competitive advantage of exclusivity. If their model starts to take root, competitors can easily enter their space using TLDs based on something hipper than .tel, such as .contact or .me.
Our friends at Domain Name Wire describe how Telnic has raised $35 million for this idea, and why it's a long shot.
It's a cool idea, but I don't think it will ever be higher on the hype-cycle than it is this year. It's great to see innovation; it's just too bad that ICANN waited until others had taken the initiative.  .Tel…. bah, humbug!