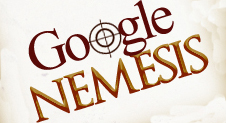 Do you know what the domain is for Google Books?
Those who'd guess the obvious, www.GoogleBooks.com, would unfortunately be wrong.  Instead of finding the real Google Books, they'd arrive at a domain squatter selling tools for joining them in that business and using a Google's good name in their domain to take revenue from Adwords and other brands.
The site features a mighty long-form ad by Google Nemesis' . In it, "Chris" promises you a secret code for making "as much as $42,150 in two weeks with one little Google ad."  Its a classic long-form ad, with testimonials, big promises, charts and jagged numbers, all relentlessly leading to a conversion form to "get the secret and give it a risk-free try."
Here's another example, the Google business kit. which isn't sold by the Google business at all.  "Jeremy" promises "Your first checks will be about $500 to $1,500 a week. Then it goes up from there" just for posting a few ads on Google.  Same with www.googlekits.com. All sites are using Google's name in their products, and two of three encroach on the trademark holder's rights in their domain name.
My employer, a leading trademark research firm, recently published an article on domain typosquatting. It points out that nearly three-quarters of all web users directly enter domains.  That, along with the high frequency of mistyped domain names on phone and PDA key pads, creates a rich opportunity for domain-name squatters like Google Nemesis and the spin-offs they spawn.
The same article reports that the top five misspellings of MySpace each generate more than 3 million visits annually, netting 15 million misdirected visits from just one site.  And typosquatting isn't just limited to web sites.  People also miskey email addresses.  My Boston history website, iBoston.org, often gets email intended for the International Institute of Boston, iiBoston.org.  My company's article notes that typosquatters in China are apparently catching incorrectly entered emails directed to US defense contractors.
This business has grown to a point where brand owners are ready to take it on.
The Coalition Against Domain Name Abuse is a collection of about twenty very large online retailers who are out to "fight for the interests of trademark holders and for improvement in the overall integrity of the Internet for the benefit of both brand owners and consumers." As the problem of typosquatting grows, expect more brand holders to actively police their domains for typosquatters, and to form interest groups which push for legislation and reform of ICANN.  I believe 2009 will be the year when online brand protection enters the consciousness of brand managers who recognizes that the online equity being stolen equates to a loss of real income for their enterprises.