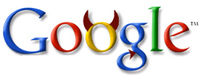 The Web Guild reports that Google is quietly laying off up to 10,000 staff. This report is now being picked up by larger news outlets.  Citing anonymous sources, Web Guild says that part of the layoff includes 500 recruiters. Though Google is cutting back, its method is stealthy.
Though Google reports just over 21,000 full-time staff, it has over 9,000 workers. These non-permanent workers aren't reported to Wall Street. Since one third of the work force is unreported, this accentuates Googles profit per person.
According to the Web Guild article, the majority of these workers have been with Google more than five years. However, their temporary status allows Google to avoid providing benefits, or having to report their dismissal in layoff announcements. Announcement or not, Google appears to be making cuts; potentially up to a third of its workforce.