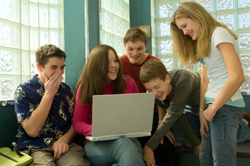 Siding with the American Civil Liberties Union, Judge James M. Munley has barred the Wyoming County District Attorney from pursuing threatened felony charges against teenage girls he has accused of sending explicit photographs over their cell phones.
The controversial case over so-called "sexting" was filed by the ACLU, along with the parents of three girls, in federal court in Scranton. They contend that photographs of the girls are not pornographic and are protected under the First Amendment.
Today, US District Judge James Munley issued a temporary injunction barring DA George Skumanick Jr. from pursuing criminal charges against the three teens, reports the Times-Tribune in a breaking story. Two of the photos at issue showed girls from the waist up, wearing bras. The third shows a teen topless, wearing a towel from the waist down, after stepping out of the shower, reports the Associated Press.