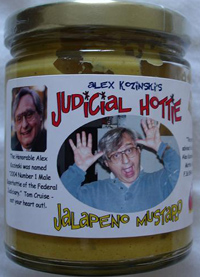 Keep reading: it keeps getting stranger. But there may be something to like here, too.
On Thursday, Judge Alex Kozinski, the Chief Judge for the 9th Circuit Court of Appeals, called on Supreme Court Chief Justice John Roberts to convene an ethics panel to investigate his own conduct. Judge Kozinski was presiding over a high-profile obscenity case when it was disclosed he had a collection of lewd photos and videos on a publicly accessible Web site, alex.kozinski.com.
Kozinski is perhaps one of America's most colorful jurists. He has a fan club site, and in 2004 he was voted #1 male Superhottie of the Federal Judiciary. And here are the details of his "super hottie mustard" (pictured right).
But he also has detractors. Cyrus Sanai, a Beverly Hills lawyer who has had a long-running dispute with the Judge, has pursued the colorful jurist for years.
As the news broke, law blogs exploded with opinions. IP law superstar Lawrence Lessig wrote an extensive post in Kozinski's defense:
When it comes to government invasions of our privacy, we are (and rightly) a privacy obsessed people. We need to extend some of that obsession to the increasingly common violations by private people against other private people. There is nothing for Chief Judge Kozinski to defend because he has violated no law, and we live in a free society (or so he thought when he immigrated from Romania). A free society should feed the right to be left alone, including the right not to have to defend publicly private choices and taste, by learning not to feed the privacy trolls.
Kozinski's wife, Marcy Tiffany, posted a thoughtful and lengthy response to the attention which has been focused on her husband. She explained that the "Web site" is really a personal server used by the family, and that the content in question was stored in a folder never intended to be published to the public. Unfortunately the servers settings allowed visitors to find its directory structure and browse folders which the family expected would remain off the site.
Judge Kozinski was perhaps imprudent (and a poor Webmaster). Some of what was discovered was offensive, but there seems to be a good reason to believe that he didn't intend to distribute it in the public way in which it's been circulated. Ridicule, which I've participated in here, seems like a reasonable first response. This was a smart and important person who made a stupid and unfortunate mistake.
As Lessig suggests, judges should be allowed to have offensive photographs, to listen to offensive music, to watch disturbing video, and to do whatever else lawful people do. Calling on the Chief Justice to investigate his actions will restore trust in the bench. And hopefully, after a smile, or a measure of shock and anger, people can get beyond this stupid mistake to see something more in his 26 years as a jurist, and in his character, which transcends today's relatively bruising, though innocent, embarrassment.
Update:
Judge Kozinski declared a mistrial and recused himself from the case.
"In light of the public controversy surrounding my involvement in this case, I have concluded that there is a manifest necessity to declare a mistrial," wrote Alex Kozinski, chief judge for the U.S. 9th Circuit Court of Appeals. "I will recuse myself from further participation in the case and will ask the chief judge of the district court to reassign it to another judge."