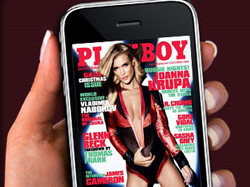 I'm at the International Trademark Asosciastion's annual meeting, where about 100 IP lawyers are listening to Anamaria Cashman, Assistant Counsel for Playboy Enterprises.
If your firm pushes business models and ethical tradition, it's likely a high-incident target for compliance action. That compels firms like Playboy to be attentive to compliance strategy, as they expect to mount defenses for their business and brand.
Facebook:
Playboy Enterprises has 1.5 million friends on FB.  It is an important point of engagement.  But because of that, they've made the strategic choice of adhering to Facebook's non-nudity policies.  They police content and quickly respond to notices.  The Facebook community then has links into the firm's adult publications.
YouTube:
Playboy celebrated a recent anniversary by inviting women to make their own YouTube video about why they should be the magazine's next centerfold.  Again, nudity was prohibited. Playboy worked with Google to implement "pre-screening" so that content, identity, and model releases could be verified.  It was a succesful campaign, but the additional compliance steps removed the immediacy of YouTube.  The successful execution of the campaign in itself was a victory, as it extended the brand meaningfully into the social space.
Twitter:
It's not a big channel for Playboy.  Still, they have staff who are listening and engaged, but at a low level. The brand in present, but not very active.
Email Marketing:
Not surprisingly, opt-in requires agreement of age and acceptance that content is not obscene in the receiver's community.
Further, if the email contains sexually explicit content, it must be labeled as sexually explicit in subject line. Imagine how easily an ISP could decide to filter anything with that subject. Playboy tends to use suggestive, though not explicit, graphics that link back to properly disclaimed adult sites.