Online changes seem to happen quickly, but their beginnings are often apparent years in advance. And legal factors provide signals to business about the stability of these new systems.
This is an idea I hope we can start to discuss in all the places we talk about the future of the Web.

It is from one of this blog's first posts, in 2007, Web 3.0 – Envisioning the Web's Next Big Change.
Here's the idea:
Web 3.0 will be characterized by integration of the web into application-driven experiences. If user-generated content is a mainstay of 2.0 – then machine integrated content is the base of Web 3.0.

The result will be a web experience that at first is highly distributed and less centered on home pages. This, I believe, will easily transition to applications experiences that don't rely on the conventions of pages, sites, or even being online.

This systematic integration is already changing the web.

Its technical drivers include the use of XML, ASP business models, open id/federated identity, rich media applications and open APIs. (Think of Facebook, Salesforce, and Twitter).
Its legal driver is

section 230

of the Communications Decency Act. (Web 2.0 is enabled through this provisions subsidy of legal immunity for republishers.)



Its market drivers include the desire to organize and unify (mash-up) information from distributed sources such as social networks to create consolidated user experiences (think Salesforce and Hootsuite).

In many cases (Web 3.0) won't appear to be the Web at all. Applications will consume and produce public web content — but the user experience will be increasingly mediated. The online experience will be increasingly an application experience.
In a Web 2.0 world, brands built their own sites, and customers said what brands stood on them and on social sites. In a Web 3.o world, the concept of specific sites evolves into offsite experiences and mash-ups that integrate content.
The Web 3.0 world is less about place (or domain) than voice and identity.

Section 230 Protection Is a Root of the Siteless Web
As this is both a legal and tech blog, I should point out that most of the "siteless web" today is hugely "subsidized" by section 230 of the Communications Decency Act. Our current connected network of application sites that aggregate or host ideas contributed by others would likely not exist without this legal structure.

Example 1: Brand Sites Don't Frame Brands; Web Applications Like Search and Social Media Do.
Go type Modernista.com into Google. Click on the first result.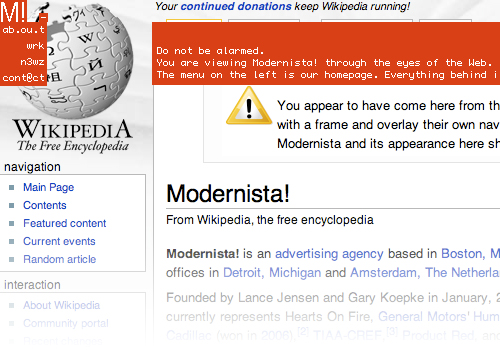 Modernista! doesn't produce or promote a home website at all. It has created an interface to the web.
The firm's customers make a considered purchase that is more influenced by what others say than how an agency describes itself on its brand sites.
The Modernista! site is an interface to a distributed set of links to other websites. Their "About Us" section is Wikipedia, Facebook, and Twitter. Their portfolio is on Delicious.  Their news section is what Google News and Google Blog Search say about them.
Their authority is not from the endorsement of these sites. It is from the ideas posted by those who use them. Modernista!'s credibility comes from the sites they don't control — and ironically, those sites don't control the content either.
The truth from outside the company can be rewarding and risky.
Did they just win an award, lose an account, post an idea? Customers know that truth and brand are in fact different things. Modernista! realized this early, and has managed to that new reality.
Example 2: Brands Migrate Off-Site to "Fish Where the Fish Are."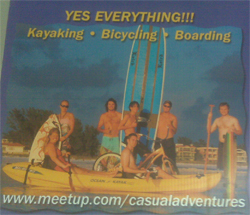 Some businesses are choosing to skip building their own sites or to promote their off-site presences ahead of the brand website.
The kayak rental shop I went to on vacation decided to forego the work of building, maintaining, and promoting its own site.
Instead, it set up an easy-to-remember Meetup account and positioned itself where its demographic was already going.
In the past, brand sites have tried to build their own communities. Most failed. Brands aren't naturally good at aggregating audiences, and most people are too busy to create multiple identities in what are essentially walled gardens run by beer companies, film distributors, or potential lawyers.
But what if brands were in social networks with their clients, and brought something of value to the party? It is easier to do this, and the market-reach results are greater.
Brand Terms Need to Send Competitors to Oblivion, Not Win Top Spots.
The most obvious example of this may be our own names.  Search Google for "Dave Wieneke." Just like with Modernista! you'll see a string of pages that I either partly control or don't control at all:
The goal isn't to change the order of these results; it's to make sure there is positive coverage of Dave Wieneke the digital marketer, as opposed to the ichthyologist or the golf pro with the same name.
Now see how this applies to the former model of the monolithic brand website. For SEO these smaller results work as a team, not to take the top position, but to take up many positions on the page.
Decentralized and Recentralized
But this tactic isn't just for doing Google searches on ourselves. This fundamental change will shift the landscape on how brands reach people. Email marketing (a sweet spot for me) will be fundamentally transformed. And application and machine design will start to leverage this change in use cases.
I'm looking forward to elaborating these last points. But for now, do you see this too? Is the brand website in decline, and is it being supplanted by a set of increasingly mashed-up offsite experiences?