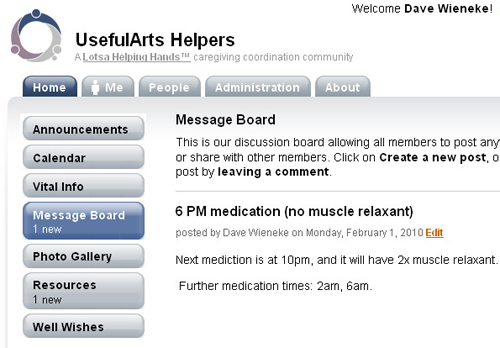 Last week a family member had serious enough surgery that I took time away from my job to be a caregiver. Surprisingly, this has connected me more to social networks and this blog. You see,  our hospital has wi-fi in its waiting areas, so writing online is productive way to pass time, and absorb the waiting with grace. When I wake up at night to give medication, the online community is there and I appreciate it. I'm finishing this in a waiting room now.
Research shows that more than three in ten U.S. households (31.2%) report that at least one person has served as an unpaid family caregiver within the last twelve months, leading to an estimate of 36.5 million households with a caregiver present. My own experience illustrates what sociologists have told us about caregiving for decades: caregiving is a social role that needs to be balanced.
You see, once someone in the family is the identified patient, their caretakers become reluctant to receive care or to be patients themselves. Many caretakers have untreated medical issues, preventative health needs, or just a chronic need for relief.  When your job is to be the one who helps, it's easy to skip self-care.
Community Beats Isolation: It Keeps Drama in Check
Fortunately for me, our friends are instinctively hip to this. Our kids have had lots of play dates, church friends have dropped off some meals, and our extended family made all that hospital waiting-room time possible.  Which brings me to introducing this free online workspace for caregivers and their friends, Lotsa Helping Hands.
It enables the loose networks around people to self-organize and communicate. Such community tools let caregivers focus more on the person they're helping, and empower them to share responsibility, which improves their own health and quality of life.
Communities allow caregivers who may not see each other in person to share knowledge and plans so everyone knows who is responsible for what.  (I've been logging medication and pain history, keeping track of appointments and play dates, and have probably not reached out as much as I would have if some of these people were not in a shared workspace.)
Community Tools for Caregivers?
A decade or so ago, I helped our state's public schools create community tools for online learning. Schools have much more organizational structure than the ad hoc relationships that help our friends and families through tough times. Imagine how neighbors, health staff, family, and civic and religious groups could plug in to help people better with the same kind of organizing tools we've seen in grassroots politics.
As someone who works in legal marketing, I think about this as I consider the audience of caregivers, who often come to us as litigants.  There's a good chance that someone you know might benefit by having community tools, and that means you might benefit from being able to plug in to a group supporting them.  The next time my life shifts me into a caregiving role, I'll have a bag of tricks that includes some community tools.  How about you?