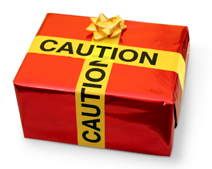 This year, online tools are helping parents identify dangerous products, and better still, select healthy choices from the field of safe picks. In today's complex world, everyone's health safety is increasingly in their own informed hands.
Healthy Stuff
Bet you didn't know that many toy cars contain materials known to cause birth defects or cancer. Or that some toys have low levels of lead. The site HealthyStuff does, and besides filling you in on which toys, cars, and pet products are dangerous, they also provide an easy way to take action and advocate for safety changes.
No More Toxic Toys
Check if that toy contains toxic chemicals by sending a text message right from the store. Moms Rising has a database of toxicology reports on more than 1,200 toys.
Government Watchdog's Twitter
The U.S. Consumer Product Safety Commission is where parents can report dangerous products or learn of recalls. Watch their Twitter feed @OnSafety for recalls, announcements, and helpful safety tips.
The Good Guide Tells You What's Inside Your Food
Learn what you can do to have healthy meals and be informed of what's in your diet. In just a few minutes I learned about the lasting consequences of food-borne illness and discovered reports of water supplies containing traces of cooking spices, heroin, rocket fuel, and birth control drugs.