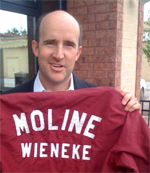 At the Quad Cities Ad Federation in Moline we discussed how sometimes related drivers combine to precipitate market trends, and ended up with a diagram that I'm calling a "bankshot."  The general pattern is that a predictable driver causes a predictable outcome, and a modifying outcome builds on that to create a  second condition, which extends or modifies the first result.
Here are a few examples that I used to discuss online marketing macro-trends with the Quad Cities Advertising Federation. This was a fantastic gathering of practitioners, who are bringing home marketing campaigns to real-world clients in every medium. Anyway, here are some of the macro-trends in online marketing that we discussed.
Trend Analysis: Mass Market Adoption of Lead Generation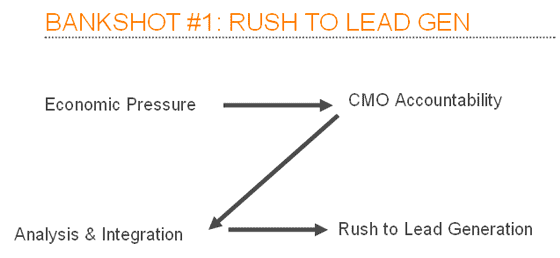 The less-forgiving economy has increased accountability for Chief Marketing Officers, who now experience an average tenure of 2.3 years.  This demand to demonstrate results intersects with improved analytics and marketing automation technology. This trend seems likely to continue; I've recently spoken with several venture capital firms doing due diligence on investments focused on the lead generation marketplace.  So the result of better systems and and more demanding business environment is a greater mass-market rush to adopt lead generation programs.
Trend Analysis: Social Media in Business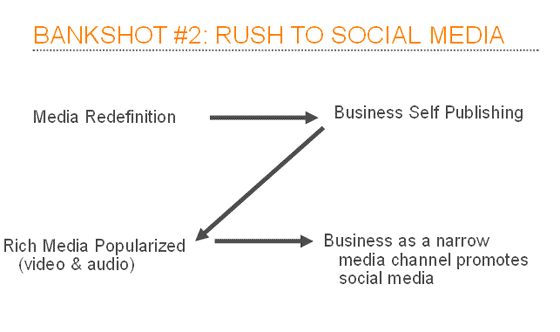 With its arrival on the cover of Time Magazine, Twitter has reached the top of Gartner's hype cycle. If I see one more "Should Your CEO Twitter?" article I'll just get silly. Still real businesses are very focused on figuring out how they can use social media, such as Facebook, viral video, blogs and the like to connect to customers. I've visited with several hotel and restaurant chains who are actively sorting out these issues.  So what's driving this need?
Traditional media is being redefined: mass market interruption is being displaced by new media on the Internet. This is disrupting traditional media business models. However, businesses that pay for media coverage still have business models that require them to aggregate audiences for expanding their markets and, increasingly, expertise to reach them directly.
This need (and a fair amount of "me-too marketing") brought many firms online with their first websites. The best example I've seen of self-publishing is Deliver Magazine. The US Post Office prints and distributes an online magazine to encourage marketers to market to emerging segments and to make direct mail—using the post office, of course—part of any new campaign.
This self-publishing trend is extended by the popularization of self-made video and audio. See the CWS Self Cleaning Toilet Ad. As I've noted, users increasingly expect rich media on sites (see my earlier post, Reading is for Suckers). Now some companies are more like specialized media channels. This means they need to feed the content monster more regularly, which creates a business  opportunity for those journalists displaced by the Media Redefinition that is the premise for this process.

Extra Credit Example: Why Are There So Many Tied Elections?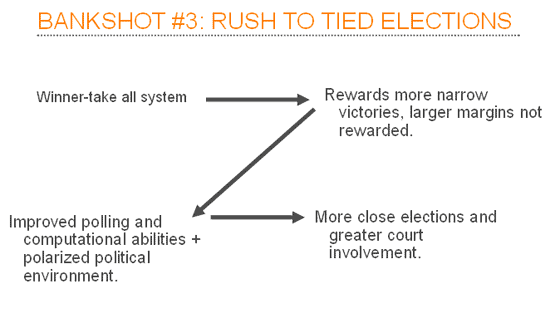 Okay, I didn't use this one yesterday with the Ad Federation. But it's another example of how this kind of diagram can work.
There's a trend in very close elections that make it to the courts. This isn't limited to Presidential and Senatorial races in Minnesota.  The local mayoral race in Rock Island, Illinois, where I've been staying, is in the courts. So is a referendum for library construction in Walpole, Ma.  Why does it seem there are so many races that are "too close to call"?
Obviously, it starts with a winner-take-all system, which makes the establishment of commanding majorities an inefficient use of resources. For district-based elections, winning by .1% and 40% is the same electorial result.  Computational power and political practice have improved polling so campaigns are able to manage to smaller margins. Plus, if you accept there's a more polarized political enviroment, perhaps due to more politically colored narrow-casting, candidates have less reason than ever not to fully assert their recount privileges. Result: Our system encourages these narrow electoral margins.
In each of these examples, technology is in the third position as the kicker that magnifies a trend already in motion. It seems like a good way to show how a confluence of causes power trends that might otherwise seem arbitrary.