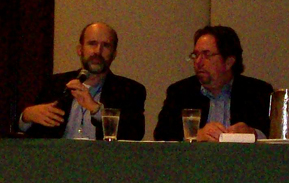 This week I participated in a the wrap-up panel discussion at Boston stop of the Online Marketing Summit. My co-panelists were Blake Coyle, a sales exec from Google, Paul Hyland, Executive Producer, edweek.org, and Theresa Regli, Principal, CMS Watch.
As usual, I'm injecting personal observations along with what happened. If you were there too, please join in. My soapbox is your soapbox.
Why the Final Panel Discussion Is Cool
There are a few things that make the final discussion at the OMS conference unusual. Anyone who asks a question is rewarded with an early drink from the conference's reception. This helps keep things lively. Also, it's when participants can ask practitioners how they bring the day's ideas together, and which ideas they in fact ignore or disagree with in practice. Last year, Mike Angiletta had comments about the need for online brand protection, which were seminal. I was interested in what would emerge, and was honored to get to kick in some thoughts.
Video Is Mainstream: Look at Heinz


Blake Coyle had prepared a fact sheet with some interesting Google perspectives to share. One that hit home for me was Heinz 57's use of viral video. Heinz offered a $57,000 prize for consumers to create their next video ad, which would be broadcast on national television. They promoted it with a nice brand microsite, gaining over five million views and four thousand consumer-generated videos.
Takeaway: If ketchup buyers can make video, so can you. People increasingly want to choose the format of their content. Sometimes we want something printed out to read later, or listen to on the commute, or to watch because, as someone in another conference said, "reading is for suckers." The production quality of some of the finalist videos suggests that small agencies are competing to get this kind of account along with consumers.
Video Is Controversial: Look at Heinz
Companies understand that edginess and controversy can make video go viral. I've seen David Meerman Scott show Complete Washroom Solutions' toilet ad several times this month, and it continues to impress.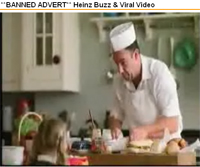 So now take a look at Heinz's controversial ketchup ad, which they ran—and then pulled—in the UK. Who would think that ketchup advertising would stir boycotts? Yet when the ad was pulled, it stirred a Heinz boycott in the gay community, and undoubtedly tons of viral views. I submit this was likely considered as part of the media plan. Heinz gets controversy and view volume, and establishes the brand as progressive in a market that generally has mostly upside.
Takeaway: big brands are starting to take smart risks. Consumer packaged goods ads that push the envelope would have been unimaginable even five years ago. Controversy lives forever; forgettable ads don't even live once.
Sharing Identity Between Social Media Is On Publishers' Minds
Last week I argued at the MIT Media Lab that shared identity in social media is attractive to application developers, but not necessarily to consumers. I'll post more on this later. Imagine my surprise when Paul Hyland raised this as an issue he's been thinking about. And yes, the audience really did support the idea of shared identity. Rather than taking the OMS crowd off on this theme, I hope to discuss Paul's thoughts and perhaps add to this in future posts.
The Ickiness and Relevancy of Behaviorial Targeting
In another session, we discussed how online services such as email actively watch what you write to determine how to advertise. By reading user messages, online services such as Microsoft and Yahoo can advise advertisers that people planning weekend plans do so between Wednesday at 6pm and Friday at 2pm. How's that for targeting—and invasive icky surveillance?
Take away: marketing knowledge is power, and the business benefit of free services is having access to that valuable data. Eric Goldman's excellent post, Relevancy Trumps Creepiness, nails the practical use of behavioral targeting and the need to get better at at.
Technology Can Be the Problem; So Can Brands
When I see technologies looking for places to live, the results are poorly scoped projects that can be more trouble than they're worth. This can be the latest shiny social media toy or someone looking to use a tool for an fairly undefined business project. The great Harold Andrews taught that "a universal tool is good to nobody."
Likewise, I've come to believe that brands are repositories for the goodwill that

products and people create. Brands don't generate their own love, so they need to stand behind, rather than in front of, the products, sales, and promoters who make relationships. This is a fairly radical idea, as many companies treat their brand as "the asset" and hold brand conformity above building equity. I talked about this at greater length the next day at the 1:1 Marketing Tour, and felt that this connected with the marketers in both meetings.
Community Is What Makes the "People" Part of Change Happen


Many OMS attendees are now quite energized about an online marketing community being formed by OMS founder Aaron Kahlow. I've been contributing volunteer efforts on the email marketing aspect of this since late winter, and look forward to sharing more news of this community's development soon.