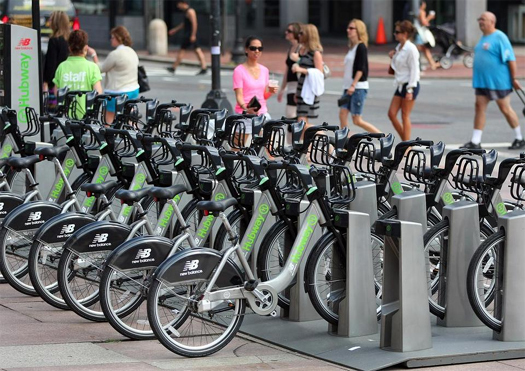 I'd like to think that in our industrialized world, sometimes what we are free of says more about us that what we possess.
But that isn't why I went car-free at this time last year. How we spend our time and resources is really how we line up on the world. I've been traveling a lot, so paying to insure a depreciating asset back in Boston when I'm somewhere else stopped making sense. I live near an MBTA commuter rail, and a short bike ride from the Orange Line subway, dropping the car turned this fact in to a bigger asset.
So, let me fill you on the car free and biking part of this.
Being car free for a year has given me a new appreciation for Doc Martin boots, Uber and Zipcar for the occasional ride, and my Hubway bike key.  Though all three of these objects have their own charm. But revolutions are based on chaning people's behavior, and Hubway has been where mine has shifted.
Hubway is Boston's commuter bike sharing program. They've provided 600,000 rides around Boston, for which members pay $50 – $85 for a season of free half hour rides. The public radio program, Living on Earth, recently produced a nice radio segment about Hubway.
I'd seen business people using the blue "Barclay's bikes" in London, so I jumped right on Hubway when it debuted last year. And now as I travel I look for city bike networks. There are 411 Hubway-like bike stops in Montreal's Bixi system, which make getting around fast and easy. And of course in the age of big data, your bike can tell you things.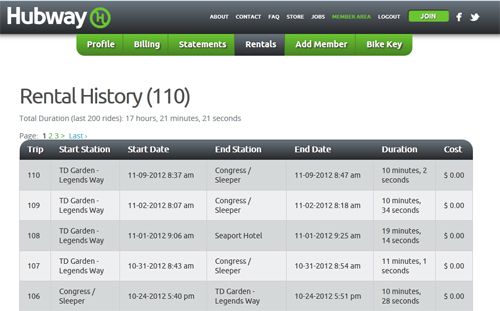 In this case, I know that I rode their bikes 110 times, for a total of 17 hours. All at a cost of $50 for the year. That includes a ride from the Seaport to opening day at Fenway Park (a really fun ride), biking from downtown to Northeastern to teach, and crossing a wooden bridge by historic ships almost every day on my way to work. The exercise, scenery, and environmental good turn in all this made it fun. I've always loved riding faster than Boston's rush hour traffic, and even though I had one accident avoiding a hapless pedestrian, the freedom of having a bike where you want one made this a huge win.
Its fun, and as you can see cheap. Fifty cents per ride is a quarter of what I'd pay for the subway and a tenth of what I'd pay a taxi. And most of the time its faster. I can get from South to North Station in seven minutes, and its more fun that sitting on a vehicle.
Now that it's November not every day is a bike day – but with Hubway every day I bike is a greater adventure. The bikes will go in to hibernation in just a few weeks, and I'll be looking for their arrival back in Spring as one more way to enjoy the city.
Have you used Hubway or other systems that let you share resources rather than own them outright? Let me know your thoughts.