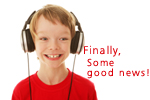 There's a lot to be happy about in recent moves by the recording industry to experimentally make music available on an ad-supported "free" basis. Here are three examples of emerging models meeting with dramatically different levels of success.
Last.fm
EMI, Sony BMG, Universal, Warner, and over 100,000 independent labels have reportedly signed agreements with CBS-owned Last.fm to allow visitors to play full-length tracks and entire albums for free on the Last.fm website.
The service is based on an innovative business model which provides visitors three free plays per song, which Last.fm monetizes through advertising that runs as the songs play. Visitors can enjoy unlimited song plays by subscribing for a monthly membership (or more surreptitiously by clearing their cookies, which is how the service keeps track of song-plays). 
In this case, business terms are Last.fm's secret sauce; currently, they are not saying exactly who gets what. Reportedly a share of ad revenue goes directly to artists, while labels get a portion of subscription fees.  The service is currently available in the US, the UK, and Germany.
imeem
A similar deal was announced last month by imeem, an online community where participants share music, videos, and photos. Unlike Last.fm, users go through a simple account set-up process, which takes care of that "clearing your cookies for unlimited plays" trick.
QTRAX
In an embarrassing PR debacle, this Sunday QTRAX announced that it also had reached agreements with the big four labels at MIDEM, the world's largest music-trade event. Actually, they had discussed agreements with some, and had expired agreements with others. In other words, they exaggerated.
Wired covered QTRAX's embarrassing retraction. QTRAX's parent company, Brilliant Technologies, continues to announce that such an agreement is just around the corner. However, this flub could jeopardize both further deals and QTRAX's continued operation. 
This experimentation — even the false starts — is a good sign. As record labels have just completed what may be their worst year ever, we're seeing signs of increased change.  This promises better music options ahead, and more entertaining news as the music industry tries to reconnect with music listeners.