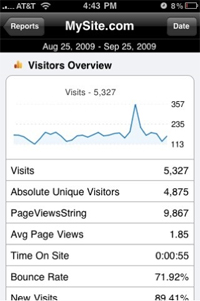 The cool kids all have apps these days, and Google Analytics has no wish to be the last to the party. Yesterday at the eMetrics Summit (and on the Google Analytics blog), Google announced several additions to its Analytics offerings, including better integration with AdWords and a Google Analytics App Gallery.
The Apps Gallery is a central point where you can check out all the applications that have been built around Google Analytics.
For metrics geeks, this is a repository of reasons why your next PDA needs to be an "i-something" or way smarter that your last device.
Here's a preview of what you'll find:

From the Brilliant
Most everyone who has a website also has a phone number they'd like you to dial. And isn't that the truth that Google Analytics dare not speak: goals measured to "thank you pages" are only part of the story.  What about those phone calls?
That's where CallTrackID comes in. Why not close the loop by tracking both calls and form fills?  If you're not doing this, then you should be psyched, because it will dramatically increase your measurable conversion rate.  So you can optimize your site across multiple calls to action.
This means you can attribute all your leads from "traffic medium" (direct, organic, PPC ad, affiliate and offline); through your lines of communication (web form, call, chat), right through to Google Analytics.  You'll get to monitor the total impact of your marketing campaigns, allowing you to more accurately justify spend and increase conversion. Are you ready to go down that path? Get psyched.
To the Functional
Find missing tags with Web Analytics Solution Profiler (WASP). See your tags, save time, see detected values, find missing tags, detect double tagging, capture flash events, export data. Cool, huh?
To the Personal
Consider 4Q – developed by analytics luminary Avinash Kaushik and iPerceptions. Get their free exit survey service which integrates with Google Analytics, allowing you to gain useful data from survey responses and then link them back to various entrance keywords, pages etc. This is highly useful if you are looking to engage in a bit of conversion rate optimization and get some first-hand insight into customer opinion.
Go take a look, and if you find something you can use, please post a comment.
Let the games begin.