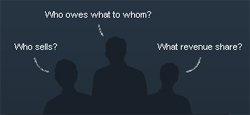 Video distribution sites such as YouTube, Metacafe, and DailyMotion host video files that can infringe the rights of content owners and brand holders. Until now, if you've needed to protect video assets, its been tough because video files are easily reformatted, edited, and distributed with changed metatags.
Now, a tier of start-ups are competing both to do the analysis to detect infringement and help rights holders better monetize their assets.
Anvato, a contextual video search which scans more than a million videos in just five seconds, scored Series A financing, led by Oxantium Ventures, at the close of 2008. Publishers simply register videos or have the service spider their site looking for new assets. The technology helps publishers identify their copyrighted content across the web, allowing them to either ask that infringing videos be removed or monetize using a centralized control panel that can configure ad campaigns across multiple video sites.
Then last week, Auditude reportedly scored a $10.5 million second round of funding led by Redpoint Ventures and Greylock Partners. Auditude has the "fingerprints" of 450 million videos, and content partnerships with MTV, MySpace, and Comedy Central.
Meanwhile, YouTube's internal effort,  Video ID, has partnered with Disney and Time Warner.  There's a convergence of companies competing to protect video assets and your brand in the world of online video. All this leads to the promise of progress in catching up with the revolution in online video, and providing integrated tools to detect infringement and help content owners profit from the attention their work is earning online.