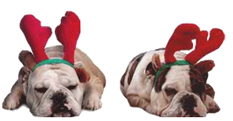 Holiday cards are perhaps the purest opportunity for marketers to put brands on center stage without pesky offers or product data messing getting in the way.  It lets us see pure branding and get some sense of how firms think of their clients and themselves. Here are three examples from internet marketing companies, the very people who are suppposed to be really good at this stuff. Some are better than others.
Brilliant Branding: The Barbarian Group nails their aggressively celebratory tone for their client party so well that even the RSVP thank-you page reinforces their brand.
Good Brand Building: This internet marketing firm does a great job of using their people to be appealing and funny, and to validate why you should want to work with them.
Bad Branding: The banner wishes you a "Happy Holiday," but unfortunately there's little in the message to be happy about. From the incongruous photo of what appears to be Russia on the email to the depressing and insincere executive message "we're still here," to the ugly historic photo and the fake winter background, little in this greeting works. He even refers to his customers as the "corporate services market." Both earlier brands are in the same market, but somehow address their clients much more personally.
When Snowflakes Collide: The Email Experience Council has quite the review of how Target, Staples, REI, NIKE and others are drawing their snowflakes.  And how sometimes holiday promotions from different brands can look alike.
Still in the holiday marketng mood? Here's more online holiday branding which ranges from buy a gift to free shipping, or my favorite: buy our terribly over-priced coffee to keep people from dying in Africa. I think the sentiment is good, but the execution swings the guilt stick pretty hard.