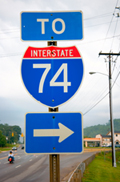 Useful Art's host, Dave Wieneke, will be in Indianopolis September 24th to speak at ExactTarget's national user conference. Want to know why I'm thrilled to be with 1,000 email marketers?  These are the people who directly connect brands to people online. They provide the "push" in "push marketing".
The plan: show how to use customer data and analytics to communicate better with clients.
My thesis is simple: brands are just vessels that hold goodwill. It takes positive interactions with products, or the people who represent them, to generate goodwill. That means people and products come before brands. Brands don't create their own love, so they best not upstage the assets which do.
Many brands see this differently. I was recently reviewing a corporate site where 70% of the sentences started with either the firm's own name, or the words "we" or "us".  Sentences starting with the company name are never really about clients. Incidently, no sentences started with the word "you" or a personal pronoun such as "I".
Its time for firms large and small to get free of their brand bunkers, and to personally explain how their people and their products move customers forward….or to give the mic up to someone who can.
Email reflects how well companies understand their clients by how relevant, timely, and targeted they are. There are ways firms can easily leverage their customer data to show they actually know their clients and want to interact with them. UsefulArts contributing writer, Brandon Lovested, will be joining in to represent his firm, and there are a few tickets left if you'd like to join too.