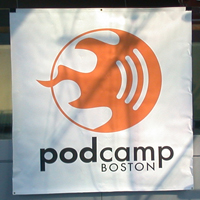 About twenty years ago. I was fortunate to study the social psychology theory of Lay Epistemology with a student of its developer, Arie Kruglanski. Thirty or so social media experts joined me for a discussion at Podcamp, taking place at Harvard Medical School, to introduce this remarkably durable theory as one way to assess and plan influential marketing communications. Thanks to everyone who participated. Here is the Powerpoint part of my presentation, which is mostly illustrations and notes used during our discussion.
What is Lay Epistemology?
In short, it's a theory about how people form and change their own beliefs. 
Its premise recognizes that people never have total access to all relevant information.  However, they make constructs of belief anyway, and regard them as definite when they accept their self-made concepts as valid.
The illustration below shows three general factors that drive the acceptance or rethinking of belief. We discussed these, as well as some more general terms for them. Participants in the talk generated lists of how these examples play out in their work, and we discussed other useful rubrics for planning influential communications.
It was nice to venture beyond the data of our own results, and discuss why some things work, and what can make changing beliefs more possible, or more difficult. Thanks to everyone who participated, and who helped create this kind of gathering.