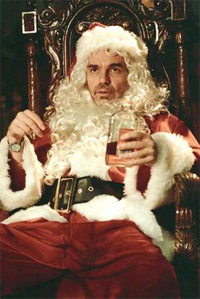 Naughty or Nice?
The recording industry has described the free airplay their songs receive on AM and FM radio as "a form of piracy." It has sued customers for copying purchased CDs to their own computers, and for selling or simply tossing out unsolicited promotional CDs.
In a year in which arguably the best album is Feed the Animals, a self-issued, "pay what you want" project by Girl Talk, it's safe to say the recording industry is getting very little good news for Christmas.
Music sales were down anywhere from 10% to 30% and hit albums released for Black Friday didn't perform to expectations.
Label executives report that at big boxes like Wal-Mart and Barnes & Noble, sales for the Black Friday weekend were off anywhere from 30% to 40%.
At New England-based Newbury Comics, sales were down 21% on a comparable store basis for the last two weeks of November, while music sales were down 28%.
New sources of revenue streams are not enough to pick up the slack from free-falling CD sales.
Worldwide spending on all recorded music will decline—falling from $31.8 billion in 2006 to $26.2 billion in 2011.
Anatomy of a "Dinosaur Business Model"
This week, the Motley Fool published an analysis of the recording industry's prospect as a long-term investment. It's nice to see some non-lawyers simply evaluating the impact of the industy's legal and business moves. Here's the Fool's operative sentence for investors:
The recording industry strikes me as a perfect example of the type of non-innovative industry that long-term investors should avoid like the plague.
There's a ton of innovation in entertainment. Gaming is forecast to be resilient; there are lots of new film and broadcast distribution models. Even in music, new models are growing. But since the recording industry has resisted innovation, these new channels will force competition, and in some cases will simply go straight to artists, cutting out labels entirely.
There's great music to look forward to, but for the recording industry perhaps Robert Cray said it best: "The forecast calls for rain."