Give Food to the Hungry by Answering Vocabulary Questions
The World Food Programme has recognized the website Free Rice for generating enough support to feed two million people per day. The ad-driven site offers a range of games, but instead of scoring points, participants score grains of rice to be donated by the site's sponsors.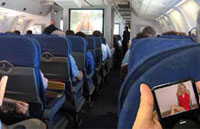 Airlines to Get Net Access = Airline Travelers Get Porn
The Technology Liberation Front posts three potential solutions to a problem that doesn't yet exist: flightmates openly watching adult content on airplanes. Flights could provide privacy screens, family-friendly seating sections, or family-friendly sites. Or airlines could just filter content. Of course, this doesn't prevent travelers bringing their own entertainment on iPods or laptops.
FindLaw's Reputation Slapped Down by Google
Todd Friesen's blog has an exposé about how FindLaw, the #1 online destination serving legal professionals, has outright sold links as an search engine optimization service. This practice was reportedly punished by Google, who recently slapped down FindLaw's page rank from a 7 (highly reputable) to a 5, which is, well, what this blog is. (My research shows FindLaw still has a rank of 7, so Google's punishment is unconfirmed.)
Online Ride Sharing Service Banned in Canada
Michael Geist blogs about an outdated Canadian law which has been used by a bus company to prevent PickupPal, an online ride matching service. He warns that the law needs to recognize the organizing potential of online communities, and that in the future organized customers will compete with the businesses who seek to serve them.
Sarah Palin's Stealthy Wikipedia Makeover
Reporters are looking for stories about Palin; one was that her Wikipedia listing was cleaned up with over 30 edits just before her nomination as the Republican VP candidate. When you're trying to define a candidate, rewriting her history is an easy first step.