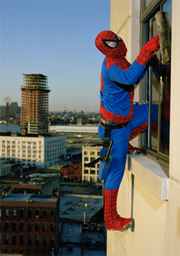 TV's Getting Old: The Christian Science Monitor notes that for the first time, last season's average viewer was more than fifty years old: "If today's TV audience were a person, it wouldn't even be a part of the target demographic anymore." With games and the Internet, TV simply isn't the "first screen" for the young set.
Post Messages That Self Destruct: Privnote lets you post your message as a single-read website page, which self-erases after being read once.  Perhaps this is one way to send a message that won't take on a life of its own.
Electronic Copyright Registration Goes Live: Our friend Jonathan Bailey describes the US Copyright Offices new online filing system as "severely flawed." Still, it's a first step, and one hopes for improvement.
The Unexpected Consequences of Rich Media: in the "dot.bomb" days Internet bandwidth far exceeded consumer demand. "If only there was rich media adoption" ISP's noted, "then we'd have growing businesses." Now there is high bandwidth demand, but its brought problems of congestion and both a need for new pricing and the need to better use the very torrents and P2P networks that ISPs traditionally have opposed.
Mexican Immigrants as Superheroes: Rebecca Tushnet's 43(b)log links to this online art exhibit. The Spidy image above is a preview, go take a look.
If you have links of note please send them along for the next link role.