It's not surprising that there was a gaggle of press attention over Google's release of a new version of its Gmail product.
No surprise, either, that Google produced plenty of graphics so reporters wouldn't have to figure out how make a screen shot. The graphic shows a typical Gmail in-box as it would look with some of the new themes. Of course, the emails shown have the names of the people who sent them, just as your Gmail does.
Now this is where the surprising and creepy thing happens: Instead of dummying up a version of the interface with a fake name (like every spammer uses), Google used a real person's emails.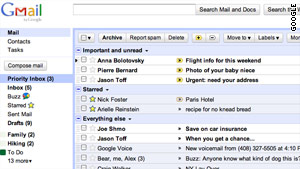 I know they did this because that real person – Anna Bolotovsky – is a friend of mine.
Anna, and the rest of the world, found out about this because it was used on CNN and beyond. This was not some sort of weird name coincidence thing. Google her and you'll find that she is the one and only person online with this name. Further proof this wasn't a weird coincidence: The subject line was from an email she had sent.
If this doesn't bother you, try putting yourself in her place: You look up at the TV and there, for the world to see, is your email, which you sent with some basic expectation of privacy. While people have differing ideas about online privacy, I think we can all pretty much agree that having your emails used for marketing is beyond the pale.
Now I'm far from an extremist about Google. I have far more enmity toward airlines who play with their prices to screw me at every turn. Google has provided me free or cheap useful products, and put the power of advertising in the hands of small and large business alike. I'm a Google certified analytics pro, and have made professional bones in SEO in the news and culture business. Google's been good to me.
And I know that Google makes its money by dicing and slicing and reselling – in one way or another – information about me and everyone else on the planet. For the most part I don't mind, because I have felt it's a fair trade. They sell the contextual ads that appear next to my emails and I get free and reliable email with pretty much unlimited storage. And, to be honest, sometimes I find those ads useful and sometimes they're so far off the mark that they are like reading fortune cookieis.
But I've always understood this to be a fairly anonymous process. Some machine scans the email for keywords or terms and voila! – the ad is placed. That feels like I'm a distant participant in their marketing. But what happened to Anna is just creepy.
Now Google is many things, but dumb isn't one of them. So we're left with two possible explanations for how this came to pass.
Marketing was lazy and screwed up.
Something in the Terms of Use agreement that no one (except the company's lawyers) have ever read makes this "legal."
Terms of Use agreements are a fascinating and underexplored art form. I doubt one in a million users actually reads the damn things. Using iTunes may very well mean Apple now has dibs on my soul, for all I know.
In lieu of our souls, most of these agreements claim that users have excused the service provider from even the most negligent or malfeasant acts. Some agreements say users agree to address disputes in forums that can be highly biased towards the firm.  All this with a click of a button. And though they may claim your soul in their grant of use, there are a ton reasons these may be unenforceable.
When Marketing and Legal Are Bait-and-Switch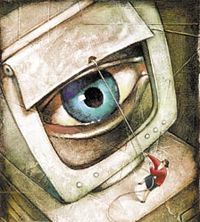 Now obscuring these claims is a two-pronged effort. One part is by burying the actual terms under a mountain of legalese. The other is that the marketing portrays an entirely different picture. Google's marketing likely portrays happy users getting their email conveniently in the service's promotional materials, without disclosing that the cost for this was a grant to sell our data or encroach on our otherwise protected right of publicity.
For the sake of argument, imagine that such absurdly broad terms included a codicil allowing the firm to physically sneak in to its users' homes after dark. Would you imagine such an agreement to be conscionable without a fair exchange of value, and without an exceptionally clear meeting of the minds around such terms? I for one would expect to see such unusual costs and benefits in marketing's description of the service, not just the legal department's six-point font.
The aggregate damage of the thousand cuts of firms trading people's private information can allow the equivalent of strangers to enter your personal life. You may recall the post where I described how just three pieces of non-private data (gender, birthday and zip code) can be used to uniquely identify a person and connect to their social security number for data mining. As an aside, consider how many store discount programs know this and more about you.
As a non-lawyer, I suggest that no matter what Google's terms of use say, Anna didn't waive her right to privacy, because the non-legal reality of Google (which after all is a service provider) created the reasonable expectation that they'd provide a suitable service. And no jury of my peers would construe having my name and examples of my personal email released to CNN as suitable. Would yours?