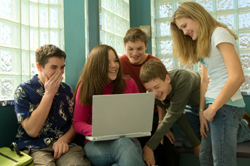 There is a growing disconnect between the legal staff who write terms of use for websites, those who operate the site, and site visitors. I've come to believe that each level of disconnection introduces new sets of legal risks, which this story only start to illustrate.
Chris Soghoian observed in CNET that
Google's terms of service, thick with legalese, state that:
"You may not use … Google's products, software, services and web sites … and may not accept the Terms if … you are not of legal age to form a binding contract with Google.
Of course if you're in the US that means that anyone under 18 is accessing Google's computer system in violation of its terms of service. And this applies to all Google services, YouTube, Gmail, and Image Search.
Ignoring Legal Risks Leads to Selective Prosecution
Federal prosecutors recently used the Computer Fraud and Abuse Act to selectively prosecute Lori Drew as a hacker for violating MySpace's terms of service. She lied about her identity, and harassed a troubled minor who was also using the system under a false identity. After the child committed suicide, a media and political frenzy resulted in federal prosecutors turning a breach of the site's terms, which might not have even been civilly enforcable, in to a federal criminal case.
Ignoring the Disconnect Between Terms and Practice May Partly Void the Agreement
Obviously, online services retain the right to modify their own terms of use.  You may begin a user experience with a minimal grant of rights and a maximum of restrictions when reflexively accepting terms. However, when site staff clearly operate to the contrary to those terms, and in some instances assure users that terms in the TOS won't be enforced, isn't the contract being modified within the user experience?
Smoking Gun: Google for Kids
Google in fact provides safe-search resources just for kids. There's no easily accessible link to terms of service, so arriving new users aren't even exposed to them.
Question 1: By creating this site and its other practices, doesn't Google by their own practice modify their terms?
Question 2: Could any reasonable person believe that a new visitor to the Google Directory for Kids and Teens should be bound by these unseen terms, which even Google seems to disregard?
Question 3: What risk is created by the gap between the lawyers who wrote the TOU, site management who follows their own drummer, and visitors who ignore the terms are entirely disconnected.
Are such TOU's unenforcable sharades posing as contracts?