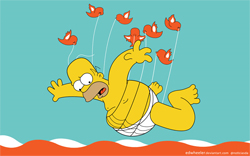 Help, I'm a Twitter Fail Whale!
I'm one of the few live bloggers at the International Trademark Association's annual meeting, but you wouldn't know that if you were an attendee.  My posts haven't been entering the show's tweet stream, and it turns out that my account doesn't appear in Twitter search.  This is a drag, because I've been trying to share news and local resources with people who mostly can't see me (though when my friends retweet my tweets, those are visible).
Sounds like Twitter hell, right?  Here's the story.
Before the conference I cleared out inactive people on my follow and followers list.  Apparently, using a mass unfollow tool may put my account on the wrong side of Twitter's use guidelines.
If you're ever in the same boat, you can avoid having to wade through help pages by remembering this post or link. Twitter has a help page if your hashtags aren't working.
Do you have this problem?
First, test to see if you have this problem.
Do a "FROM:your_twittername" search, like this. Click this link, and in the twitter search input box, replace the name "usefulars" with your Twitter name (no spaces).
If you see "No results found," then bingo, you'vebeen banned by Twitter!
Getting "unbanned" so your posts can be seen.
Open a Twitter trouble ticket by "Submitting a Help Request here." Say that your reason is: "Can't find myself in search."
Send a polite tweet to @twitter by tweeting this text (with YOUR ticket number where indicated): @twitter I'm being filtered out of search. My ticket number is #____. Thanks!