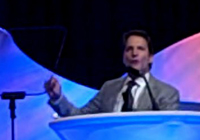 I'm writing this as Peter Guber, CEO of Mandalay Entertainment, delivers the keynote at the Annual Meeting of INTA, the International  Trademark Association.  Here are some of the ideas he's presenting.
Be Active in Your Own Rescue
The presentation's repeating theme is to be active in your own rescue. As a veteran film and recording executive in the age of digitalization, that's dead on advice.
He described how to build the compelling story, to answer "what's in it for me. Along the way he provided tips for making "purposeful stories" from his book, The Art of the Tell.
If the hunter doesn't tell the story, the lion will.
In some circumstances, there may be no story you can tell to protect a brand.  Using examples of doping in baseball, and infidelity in Hollywood, he illustrated how sometimes its better to ride out bad coverage than make a lame defense.  Brands can decide to defend their interests, or value them by letting a bad coverage in the news cycle to run its course.
But, that's a plan.  When Wired portrayed Demand Media as spammy, this Guber-related firm went in to action by setting its story right. The CEO promoted his view to the full firm, then to reporters, partners, and it reversed the coverage.
Think in terms of audience
All stories are a call to action, otherwise its an empty calories.
Don't hind the goal.  Be sincere, put it out front.Think of your clients as listeners – aim for their heart. Make them feel, and they'll think. Make them feel and think and they'll not be focused on grasping their wallet.  Don't worry about being interesting, think about being interested in your audience.  If you connect with them on every channel on something that matters to them, your message will resonate and be actionable.
You can get a taste for his presentation from this 2007 article which appeared in the Harvard Business Review.