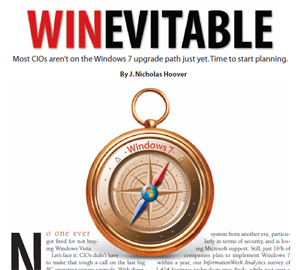 The InformationWeek cover story had two elements. First was the illustration, which featured a compass with Windows 7 at true North, the headline "Winevitable," and the question of how you will get there.
That's the kind of positioning money just can't buy. Imagine producing software whose inevitability is proclaimed on the editorial cover of magazines.
The second feature I noticed was the listing of the Government CIO 50. This made me think of Massachusetts' then-CIO, Peter Quinn, who didn't think Windows was inevitable.
Back in 2005, he set a course to take take the state off most licensed software.
Step 1: Firefox, not IE.
Step 2: Any software built for the state is made so it can be released as open source and traded or built on by other states.
Step 3: Use standard open-source applications instead of the Miscrosoft Office suite.
Things were proceeding well.  Massachusetts was forward-looking, saving money, and leveraging the efforts of others.
Then two things happened.
His boss, Governor Mitt Romney decided to run for President. Imagine what funding Microsoft would put forward to prevent the first open-source-state elected President. After all, if government could stop paying for licensed software, what business or personal users would follow?
A story was planted in the Boston Globe. It reported concerns that Mr. Quinn had improperly accepted travel to open source conferences. The story was later proven to be untrue, but it was enough to show that the pressure to resign as CIO would be intense.
It was the shot heard 'round the e-government world. CIOs got the message loud and clear. Your boss doesn't want Microsoft as an enemy, and neither do you. Microsoft will claim that open source reduces compatibility, and makes government more expensive. And they'll fight fiercely to weed such initiatives out, by weeding you out.
And so Microsoft's winevitability grew unchecked.
This week, Microsoft issued its largest patch ever for 34 new vulnerabilities. The inevitable apparently still needs some work.