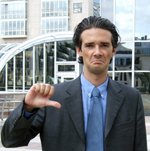 Three months ago, on the day when this offer was announced, I made the post Microsoft Purchase of Yahoo Won't Happen as Predicted.  
Over the weekend, Steve Ballmer withdrew MSFT's offer. Yahoo stock is trading about 20% below where it closed Friday; Microsoft is up.
The Wall Street Journal's Deal Blog dissects Ballmer's letter to Yang line by line.  Microhoo could happen in the future, but it sure didn't happen as most of the US media said it would when they echoed Microsoft's press release.