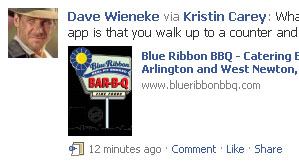 This evening, Facebook rolled out a feature that lets users repost each other 's shared items, with a "via" link attached for attribution back to your friend.
All you do is find a posted item in your news feed and click "share" as shown to the right just below my post. This adds a post with a "via [your friend's name]," which you have the option to remove, to your own News Feed. Your friends will see this in their News Feeds, and so a new viral loop begins.
Facebook and LinkedIn Vie for Real-Time Search
Since the most frequent use of retweets on Twitter is links,  and since aggregators like Tweetmeme watch which stories get retweeted the most, it's a move that make Facebook more Twitter-like.  In contrast, last month LinkedIn provided a level of Twitter integration by establishing the #li tag, which allows tweets to appear on the site, and a check box to repost FB items.
Both moves position the networks to make the viral loops of social conversations more visible and repeatable. The benefit to users is that their content can escape the walled gardens of these networks.  Meanwhile, the networks benefit by gaining greater search visibility. Both networks have moved from sharing only between tighter private networks, to more viral associations, which catches up to Twitter users' increased expectation to see their content shared and repeated through social publishing.