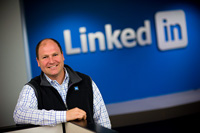 Bain Capital has bought a 53 million stake in the social networking site LinkedIn. This would bring the total valuation for LinkedIn to just above $1 billion. Bain invests in and sell companies, so its involvement is an additional sign that LinkedIn may be headed toward a sale. 
So, why now? And does this raise potential privacy concerns?
Why now?
Larger social networking sites have drawn investments from media companies, such as Newscorp's purchase of MySpace. The attraction is that social networks aggregate audiences in an online venue for advertising. However, advertising prices on social networks have dropped.  Apparently, those who use social sites would rather keep doing that than click through on ads. The benefits of behaviorally targeted ads have been slow to materialize, in part because of privacy issues.
However, LinkedIn is different. It has succeeded in gaining about a quarter of its estimated $100 million annual revenue from subscriptions. Further, its membership is business-focused, and represents a potentially hard-to-reach, high-value audience.
Possible privacy issues
Services like LinkedIn reveal our personal information and networks only to select friends and their friends. Imagine the added value a business might realize both by operating the LinkedIn business and adding intelligence from it to their own operations, or licensing it to others.
Last year, the social network LiveJournal was sold to SUP, a company based in Moscow. Now, personal information given to LiveJournal is both under the control of a young new company and in a new jurisdiction: Russia.
While foreign acquisition doesn't seem likely at the moment, it isn't out of the question. After all, the majority of LinkedIn's expansion is in international markets. Such an asset could conceivably be ripe for investment from companies with international expertise and foreign currencies. And if that were the case, privacy concerns would drive regulatory scrutiny, and present a whole new set of user concerns.