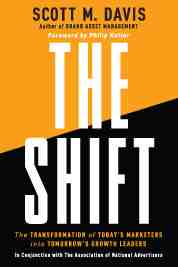 The best business book I've read this year is The Shift, by M. Scott Davis. If you're responsible for driving the vision of marketing, here's a deep dive on business leadership from the CMO chair.
It describes the executive orientation necessary to make marketing responsible for revenue growth. It advises marketing executives how to transform their discipline from being a cost center, to the company's growth engine.
The days of marketers operating in a vacuum, with marketing and business strategies being devised independently of one another, are ending.  The best marketers are now creating integrated perspectives that start with the growth objectives of their entire organization.
I had the pleasure of hearing Scott speak at BMA in Chicago this April.  The presentation and book are something I've come back to frequently.