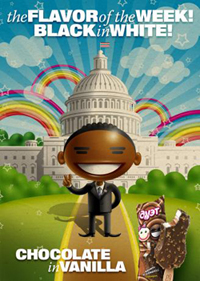 Around Inauguration Day I featured Pepsi's logo aping the Obama brand, as well as some tasteless products, such as Yes We Can perfume and the Obama thong. Apparently, this enthusiasm and questionable judgment isn't confined to Americans.  Here are a spate of foreign ads, which are sure to get you thinking.
Racist or Ridiculous?
"Black in White" is the campaign that Russian ad firm Voskhod rolled out for Duet ice cream's bar that swirls chocolate inside of vanilla.  Do the symbols of American power (note they get the US Flag wrong) loom so large they can move product in Russia? Or is this is a somewhat racist poke, right down to the "Black in White" wrapper showing a female white head with a pink bow atop it next to a slick-looking cartoon black head with sunglasses.
From Germany with Love: Obama Fingers
"It was supposed to be a homage to the American lifestyle and the new US president," Judith Witting, sales manager for Sphere foods, explained. Yet this chicken product named after the first black US President hit an obvious PR snag. See coverage in Spiegel.
Japan Celebrates First Black President with First Monkey President
Waving signs for CHANGE, a cell-phone-wielding monkey thanks the electorate and brings tears of pride to the eyes of primates everywhere.  Not to perpetuate a stereotype, but Japanese marketers are likely more hyperbolic that racist in this case. Still, taste and good judgement don't seem to have prevailed here.