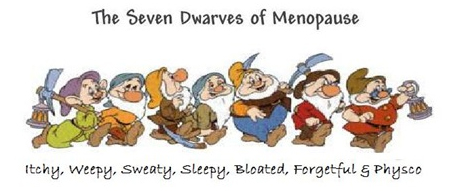 Last week I was sitting on the beach, minding my own business, and there in the local newspaper was a Family Pharmacy ad featuring "The Seven Dwarves of Menopause." They are named Itchy, Weepy, Sweaty, Sleepy, Bloated, Forgetful, and Psycho. (yes, Psycho's name is spelled wrong, but don't tell him….or the dwarves.)
What's psycho is both that the Disney images appeared in the ad, and that they are all over the Internet. Google provides 1,300 results for the "dwarves" and 26,000 of "dwarfs of menopause". In fact, actress Suzanne Somers is carrying them around, using the dwarfs to promote a hormone replacement regime. Here she is on Oprah.
Is there any way Disney can't be so uncomfortable about this? The only thing that could possibly be worse would be the magnified coverage a complaint would bring. We can only hope for a next step, so stay tuned.
Trackbacks:
http://tushnet.blogspot.com/2009/03/seven-dwarves-of-menopause.html
http://www.likelihoodofconfusion.com/?p=2259