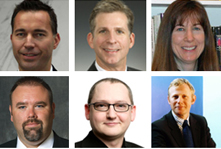 I simply didn't expect this.
INTA, The World Intellectual Property Review, and TelNic hosted a webinar to discuss the "revolutionary" landscape ICANN has proposed by opening up top-level domain ownership. There was real dissension against ICANN's vision, and at best, muted support.
You may view the recorded program for free.
<Use IE, there seems to be a Firefox issue.>
What was striking was the fear that an onslaught of new top-level domains would create confusion, expense, and technical difficulties.  Participants repeatedly referred to ICANN's ambition to gain over $80 million from this offering, which would be used to establish themselves as a "domain college" in Switzerland. There was broad concern that this has caused a drive to popularize an expensive gTLD scheme that is of little use to brands.
Legal staff from Yahoo and Verizon voiced strong concerns, starting with the fact that no research suggests there was a market demand among brands from TLD expansion; quite the opposite.
Sarah Deutsch of Verizon observed that during the worst financial crisis in recent history, ICANN is opening a "fire hydrant" of new domain names.  Many brands may be compelled to become registries to claim their own marks as domains, which means paying perhaps $185,000 to register, and annual ICANN tax consultants to uphold the security and technical responsibility of a registry.
She noted that many brands may sit out the initial bidding and save their money to legally challenge those who bid on infringing names, or perhaps to sue ICANN directly. Participants noted that a requirement to "check trademarks at the door," and abide by ICANN findings as part of the domain assignment process, absolutely must change.
The Positive Case for Brands to Get TLDs Was Lacking
What's striking is the absolute lack of a compelling case for brands to move speedily in this direction. Several members pointed out there are marginal advantages. Paul McGrady, Jr. of Greenberg Traurig noted that companies that are registries directly own their own domains. Though few registrars have gone bankrupt, he pointed out there is a chance that company domains could be resold by a trustee holding the registrar.
There are also first-mover advantages, so that companies with similar strings of letters won't displace you, or take your name if they use the same mark in a different market. Finally, there's the potential cool factor to having your own domain.
But is that the best case for brands to do this? Berlin has waited three years for the .BERLIN domain.  One could register a domain to unite .BIKERS, or people seeking .MEDICAL help, or .wii players. Not real compellling from a brand perspective.
Even the representative from Telnic said that for this plan to gain acceptance, the new domains will need to do something significantly different than the .COM domain does.
Who Will Be The Winner?
Nick Wood from Cum Laude summed it up: "The ICANN family is the only first-round winner."
Sarah Deutsch offered that "ICANN, its consultants, and most anyone who charges by the hour will win. With e-commerce and spending overall being down, this is more an expense than an opportunity for brands."
Next year, ICANN will start a four-month program, aimed at marketing directors, to promote buying and running their own top-level domains. Useful Arts will cover this and any other changes to opening a fire hydrant of new top-level domains.
Paul McGrady, Jr. encouraged companies with an interest in this space to go to Mexico City and participate in the next ICANN meeting.  Mark your calendar.