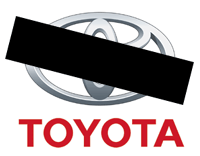 Toyota wants fan-submitted desktop wallpapers that show Toyota, Scion, or Lexus cars removed from DesktopNexus.com, a popular wallpaper sharing website.
In an article on TorrentFreak:
The site's owner, Harry Maugans, contacted Toyota to clarify. He was told that all images featuring Toyota vehicles should be removed, even images with copyright belonging to others.

Maugans said: "Their lawyer, Garrett Biggs, told us that if we wanted them to specifically identify their images, we would have to pay for them to do so." Maugans also said he was afraid it would come to a lawsuit, fearing the attrition effect that is so common now in copyright disputes. Toyota, with cash assets of over $23 billion, can surely afford to spin out the legal costs in an attempt to bankrupt the site — the same strategy that is often used to "encourage" a settlement in RIAA cases.

Yet, Toyota has also been cagey. These demands have not been sent in the form of a DMCA notice. While sending such a notice would require the takedown, it also requires that the person sending the notice legally certify that they are legal representatives for the copyright holders at issue. Making a false statement is '"punishable under penalty of perjury," which is not taken lightly in US courts.
This harkens back to a similar stupid maneuver by Ford against a Mustang enthusiast club who placed — can you believe it — Mustangs in their club calendar.
Annoying fans of the product when Toyota sales are down 25% doesn't seem like good marketing or public relations. These days, car companies need all the allies they can get.